Trump Says Cause of White-Black Tension Is 'Lack of Spirit'
By and
Stop-and-frisk was 'really referring to Chicago,' Trump says

Policing tactic allows cops to take guns away, he tells Fox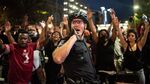 Republican presidential nominee Donald Trump on Thursday diagnosed "a lack of spirit" and "unity" as the cause of increasing tension between black and white Americans.
"It just seems that there's a lack of spirit between the white and the black," Trump said in a phone interview on Fox News. "What's going on between police and others is getting worse."
"There has to be a unity message somehow that has to get out and it starts with leadership," Trump said.
Trump was responding to protests and violence in North Carolina, where the governor declared a state of emergency Wednesday after police in Charlotte shot and killed a black man named Keith Lamont Scott.
Echoing a spokesman's statement Wednesday night, Trump on Thursday said he was "was really referring to Chicago" when he called Wednesday for wider use of the policing tactic known as stop-and-frisk.
Stop-and-Frisk
"New York City was incredible, the way that worked, so I think that could be one step you could do," Trump said about stop-and-frisk Wednesday in Ohio at a taping of Sean Hannity's Fox News show, according to a network transcript.
Asked Thursday to describe the tactic to Fox News viewers, Trump said it allowed police to stop people they suspect of having guns and take them away.
Police are "proactive, and if they see a person possibly with a gun or they think may have a gun, they will see the person and they'll look and they'll take the gun away," Trump said. "The local police, they know who has a gun who shouldn't be having a gun."
Trump has accused Clinton of seeking to eliminate Americans' Second Amendment right to bear arms. Clinton doesn't propose that but does advocate for tighter gun laws to curb violence.
Trump has credited former New York City Mayor Rudy Giuliani, one of his top supporters, for using stop-and-frisk to bring down crime. The practice continued when Michael Bloomberg, who is the founder and majority owner of Bloomberg News parent Bloomberg LP, was mayor.
Tactic's Problems
In 2013, a U.S. district judge ruled that stop-and-frisk unlawfully targeted minorities. Donna Lieberman, executive director of the New York Civil Liberties Union, described the program Wednesday as an "abysmal failure" and "code for racial profiling."
The current New York City Mayor Bill de Blasio, a Democrat backing presidential nominee Hillary Clinton, was elected in 2013 on a call to curtail the practice and improve relationships between police and minorities.
Trump is struggling to gain any traction versus Clinton among black voters ahead of November's election.
The candidates are locked in a tight battle in the overall race. As he swung through Ohio on Wednesday to discuss policing and minority issues, the RealClearPolitics poll average showed him with a 2.5 percentage point lead in the critical state. Nationally, Clinton has a 1.5 percentage point lead in the site's poll average.
Police Shootings
Trump and Clinton have also responded to the police killing of a black man named Terence Crutcher last week in Tulsa, Oklahoma, in a shooting that was caught on video.
"This young officer, I don't know what she was thinking, but I'm very very troubled by that," Trump said Wednesday at New Spirit Revival Center, a largely black church in Cleveland. "Did she get scared, was she choking, what happened?"
Clinton said Wednesday in Florida that while not all facts are known yet in either the Tulsa or Charlotte killings, "we do know that we have two more names to add to a long list of African-Americans killed by police officers. It's unbearable. And it needs to become intolerable."
— With assistance by Jennifer Epstein, Jennifer Jacobs, and Henry Goldman
Before it's here, it's on the Bloomberg Terminal.
LEARN MORE