business
Six Things You Shouldn't Do if You Want a Job, According to Hiring Managers
Make the job application process a little easier on yourself.
By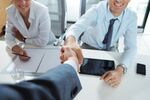 Applying for jobs is a horrible process for everyone involved. But prospective employees don't make things easier by committing common application faux pas. We spoke to five hiring managers for last week's episode of Bloomberg's Game Plan podcast about some of the things applicants do that make them cringe. If you want the job, don't do the following. 
Don't Show Up Uninvited
"People will tell you, you have to stand out, so you have to visit the office in person," said Jennifer Kim, a former recruiter and current head of People Operations at Lever, a recruiting startup. One candidate came to her office to lecture her on the problems with her hiring process. Don't do that, Kim said. In fact, don't show up unannounced for any reason. "You're actually interrupting somebody from their full schedule who has to come out and meet you and talk to you," she said.
No Gifts
It might sound like a good idea to send something over to a hiring manager to sweeten an application. It's not. "It creeps most hiring managers out," said Michelle Broderick, chief marketing officer at Simple, a banking app. One potential employee sent Broderick a magazine cutout of a superhero with her face superimposed onto it. That person did not get the job.
Even less-bizarre presents such as flowers and candy can make hiring managers feel uncomfortable. "It's not the gimmick that should get you your job, it should be your talent," added Kim. 
Don't Use Form Cover Letters
By now, most applicants should know that copying, pasting, and sending the same cover letter to a bunch of different jobs is a bad idea. They don't. Multiple hiring managers said this happens all the time. Even worse, people don't take the time to check for simple errors, such as putting the wrong job or company name on the cover letter. "It's like, 'I hear your competitor is doing amazing things,'" said Kim. "I understand that you have a lot of résumés and cover letters you're sending out, but not [the] competitor. That's not one you should get wrong."
No Props
You should bring a résumé—and if you're in a creative field, a portfolio (if that)—but nothing else to an interview. Matt Jagoda, who heads up hiring at photo site Shutterstock, said anything more is "probably overkill" and will lead hiring managers to question an applicant's judgement. 
Once, for example, someone brought in all the thank-you notes he had received at his previous job. Another time, someone brought in a giant binder. "That seemed out of place to me," Jagoda said. "And I was being given all these thank-you notes."
Don't Offend the Receptionist
These days, many companies use what are called "qualitative tests of character" to find the right "fit" for the company. For instance, taking note of whether or not someone throws away their own water cup after an interview to test their entitlement. At Lever, the hiring managers inquire as to how the interviewee treated the receptionist. "You never know who has influence in the hiring of a position," said Kim. "We train all our receptionists: If someone is all rude to you, we want to know. We don't want to hire anyone who doesn't treat everyone professionally."
No Photos
There's some debate over this one, but Jagoda of Shutterstock makes a good case against attaching a photograph. "That's not what I'm making the hiring decision based on," he said. And it shouldn't be. What someone looks like doesn't have anything to do with their abilities, unless the job in question is a modeling job. Attaching a photo emphasizes the biases in the hiring process.
Making things even worse, people tend to send inappropriate photos. "You know how you see people on Facebook or LinkedIn and it appears they've got their arm around a buddy—you can tell a photo has been cropped," said Jagoda. "Not only are they attaching a photo, but, oh, is that a photo from last Friday night, where they went out with their friends?"
For more on hiring, listen to the full episode of Game Plan.
Before it's here, it's on the Bloomberg Terminal.
LEARN MORE