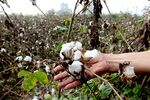 In a small laboratory housed in a biotech incubator 90 minutes east of New York City are six bins tightly packed with sealed plastic bags of men's dress shirts, sheets, and tufts of cotton ready to be spun into yarn. The materials are waiting to be DNA-tested with the same rigor you'd find in an FBI crime lab. But rather than seeking clues in a murder, the forensic scientists at biotech company Applied DNA Sciences are looking for a unique DNA stamp in the fibers to see whether the textiles are, in fact, made of the premium cotton their labels claim.
The products have been sent to Applied DNA Sciences by a group of retailers and manufacturers trying to avoid the fate of Target, which recalled 750,000 fake Egyptian cotton sheets and pillowcases after discovering they contained a less expensive form of cotton. Following Target's move, Walmart said it would also offer customers refunds on Egyptian cotton sheets made by the same manufacturer, Welspun India. JCPenney and Bed Bath & Beyond are investigating their products. Welspun, which is being sued for consumer fraud in federal courts, said it's adopting new labeling practices and has hired Ernst & Young to audit its supply process.
It's been an open secret among experts in the cotton industry that products often labeled as 100 percent Egyptian or Pima cotton are made in part or entirely of cheaper cotton.
Cotton production in Egypt has tumbled in recent years because of poor management of the seed supply, and in California, drought conditions over the past few years have slashed output of Pima cotton, a premium U.S.-grown plant similar to Egyptian cotton. But demand from consumers for goods made from the expensive fibers—a set of Egyptian cotton sheets can retail for three times the price of those made of common upland cotton—and the desire for ever-lower prices have remained.
To keep up, some suppliers have been substituting or blending in cheaper cotton, says James Hayward, Applied DNA Sciences' chief executive officer. In the case of Pima cotton, 83 percent of tested products labeled as 100 percent Pima were made entirely or partially of another type of cotton, according to a study by the company this year. "Customers want a better and better price, and the retailer applies that same pressure all the way through the supply chain," says Hayward. "So what do the suppliers do? They cheat."
The results: customers angry that a shirt is rougher than expected or a bedsheet has frayed all too quickly, and retailers at legal risk for false marketing. "This is a bottom-line issue now," says Nate Herman, a senior vice president for supply chain for the American Apparel & Footwear Association. "Not only have [consumers and retailers] been paying too much for years, it is a brand reputation and a legal liability. Those are the worst things you can have."
In its raw form, Egyptian and Pima cotton feel and look slightly different from coarser upland cotton, and their longer fibers can be seen under a microscope. But once cotton is processed, it's almost impossible to tell the difference among Egyptian, Pima, and upland varieties even under a microscope, because the long fibers get broken down during weaving, dyeing, and sewing. Sometimes the width of the thread can be used to determine the type of cotton, since upland cotton can't be spun as thin, according to Cotton Inc., a group representing upland cotton growers. While DNA testing can determine the species of some cottons, there's currently no test to tell the country where the cotton was grown, the group says.
That's why manufacturers are trying new ways to ascertain that the premium-priced cottons they purchase actually go into the products that reach retailers' shelves. This year, a handful of retailers started selling cotton that had been marked with a DNA tagging system, similar to what's been done with olive oil, Super Bowl footballs, and fine art. The technology, developed by Applied DNA Sciences, uses tiny genetic markers that are sprayed on the cotton at the gin just before being packaged and sent to be turned into yarn. The markers bind to the plant's fibers and act as a microscopic bar code that can be tracked throughout the production process, which can involve more than seven steps in as many countries. At each stop on that journey, samples are collected and sent to Applied DNA Sciences' lab for testing to ensure the DNA tags are still there and another cotton hasn't been substituted.
In the past year, the microscopic stamps have started to appear on products carried by some of America's largest retailers. Indian textile manufacturer Himatsingka Group, which makes products sold under the Calvin Klein Home brand at department stores and the Kirkland Signature brand at Costco, started tagging the California Pima cotton in its products in 2014. Bed Bath & Beyond started selling its first DNA-stamped cotton product this year—a down comforter with a Pima cotton lining. "We have arrived at the beginning of a new era when it comes to protecting product integrity," says Leah Drill, a spokeswoman for Bed Bath & Beyond.
At the Applied DNA Sciences lab, run by a molecular biologist who spent most of her career working in medical examiners' offices, a group of four researchers will test an average of 30 samples a week sent in from clients. Each gets its own case number and a file that can be more than 40 pages long. As demand for tagging and testing has spiked following the Target incident, the company is looking to ramp up its capacity to run 100 samples a day.
One reason DNA tagging hasn't been more widely adopted is because of the expense and complexity, says Herman. While Applied DNA Sciences won't disclose the exact cost of using its process, the company says the DNA tagging and tracking adds just a "few pennies" per pound to a manufacturer's expenses. CEO Hayward says the bigger cost increase for apparel makers comes from suppliers charging them more once they're forced to deliver 100 percent premium cotton. There is "no silver bullet" yet, so retailers are closely tracking only a small fraction of cotton in their products, says Herman. "It has been very difficult. It is just going to take time."
The bottom line: Retailers are using DNA tagging to verify their use of Egyptian cotton, for which sheet sets can run triple the cost vs. regular sets.
Before it's here, it's on the Bloomberg Terminal.
LEARN MORE