Creating Precision Parts and Devices, at Millimeter Scale
Microfabrica is building miniature forceps, clocks, and more in a process similar to creating computer chips.
By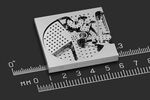 Form and function
Microfabrica produces millimeter-scale precision parts and devices—biopsy forceps, tiny clocks—through a method known as electrodeposition that's similar to the process used to make computer chips.

Innovator: Michael Lockard
Age: 58
President and COO of the 100-employee design and manufacturing company, based in Van Nuys, Calif.
Design 
Components and devices are developed using commercial design software modified using proprietary code.
Production
From 4 to 50 layers of metal alloys and polymers are deposited on the surface of a ceramic wafer. Hundreds to thousands of devices can be made from the metal alloys on a single 4- or 6-inch wafer.
Delivery
Wafers are separated from the finished products and can be reused. Products are shipped to customers in gel packs or test tubes filled with alcohol.
Origin
Lockard and fellow 3D Systems alumnus Adam Cohen conceived of the idea for semiconductor-style 3D printing and founded Microfabrica in 2000 to research commercial applications.

Customers
Aerospace companies such as Lockheed Martin and major medical device companies that Lockard declined to name.
Cost
$1 to $100 per item, depending on the size and number of layers.

Funding
Darpa invested in 2000. Microfabrica raised $65 million from various investors through 2008. CEO Eric Miller says the company has been profitable since 2014.
Next Steps
Miller says the company is designing tissue dissection and removal devices at its development office in Santa Clara, Calif. Christopher Ober, director of Cornell's NanoScale Science & Technology Facility, says Microfabrica's process is the only one he knows of that uses advanced semiconductor manufacturing techniques to produce complex metal devices. "Its strength is that like the production of computer chips, it makes multiple copies in parallel, and not by the one-at-a-time approach of conventional 3D printing."
Before it's here, it's on the Bloomberg Terminal.
LEARN MORE