A Little Blue Dot Is Irritating Nebraska's GOP
Team Clinton is trying to win Omaha's single electoral vote, with a little help from Warren Buffett.
By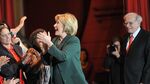 Nebraska Democrats love talking about the Blue Dot. Formally known as the 2nd Congressional District, the Blue Dot hugs the state's eastern border with Iowa, encompassing Omaha and its suburbs—an outpost of liberalism in an otherwise red state. In 2008 voters in the Dot went for Barack Obama while the rest of the state backed John McCain. Because Nebraska splits its electoral votes by congressional district, Obama got one from the Dot, becoming the first Democrat to win an electoral vote in the state since Lyndon Johnson in 1964.
Obama failed to repeat his victory in 2012, when Republican Mitt Romney carried the Dot by seven points, thanks in part to redistricting that shifted many black and Latino voters into the 1st Congressional District, making the Dot much less reliably blue.
Hillary Clinton is determined to take back the Dot, and its single electoral vote, this year. Her campaign has had staff in place there since early summer and had opened two offices in Omaha by the end of August. By early September, the campaign had recruited more than 400 volunteers and was running near-daily phone banks. Trump's campaign has an office in Lincoln, the state capital, but has yet to establish a presence in the Dot. "We're seeing that Congressional District 2 is really in play, largely because of the disillusionment of Republicans with their candidate," says Crystal Rhoades, chair of the Democratic Party in Douglas County, which includes Omaha. "So I think that's positive for us."
Republicans have repeatedly tried to undo the state's vote-splitting law since it took effect in 1992. There have been multiple attempts to return Nebraska to the winner-take-all system used by every other state except Maine, which has assigned Electoral College votes by congressional district since 1972. The most recent one was defeated in a legislative committee in April.
Democrats in the Blue Dot were delighted, but the party has shown little interest in passing electoral vote-splitting in other states. "From the perspective of the Democratic Party, this one goes under the heading of Be Very Careful What You Wish For," says Paul Landow, a longtime Democratic operative who's an assistant professor of political science at the University of Nebraska at Omaha. "You may think that this is a really good idea in Nebraska or, say, Iowa—that's got some heavily Democratic districts. But do you want to make this change in California or New York?"
The answer so far has been no. Following Romney's electoral loss in 2012, Republican legislators in Virginia and Pennsylvania introduced bills to drop the winner-take-all system but were defeated by Democratic opposition. If the system used in Nebraska and Maine had been in place nationwide in 2012, Romney would have carried 275 electoral votes, according to a Washington Post estimate, enough to win the White House, rather than the 206 he won. (Romney lost the popular vote nationwide by about 5 million.)
Following the 2010 census, Nebraska Republicans redrew the boundaries of the Blue Dot to include not only Douglas County, home to almost 30 percent of all Nebraskans, but also the conservative western half of Sarpy County, south of Omaha. Before the 2014 midterms, state Democrats commissioned a D.C. consulting group to develop a strategy for taking back the district, which mainly focused on voter registration. Working alongside labor groups, the party registered 10,000 new voters, many of them Latino. They succeeded in ousting eight-term Republican Representative Lee Terry and electing a Democrat, Brad Ashford—one of only two Democrats to defeat a sitting Republican congressman that year.
State Republicans haven't shown much interest in matching the Democrats' organizing efforts. Jon Tucker, who heads Douglas County's GOP, says their main focus will be on making sure voters know their polling places and publishing a candidate slate online.
Democrats have maintained a narrow registration advantage in Douglas County—128,477 as of Sept. 8, compared with Republicans' 127,286—but that's more than erased by their 20,000 voter deficit in Sarpy County.
In August, polling by Ashford's Republican challenger, Don Bacon, showed Trump almost six points ahead of Clinton in the Dot, even as he trailed her in national polls. Bacon, a former brigadier general in the U.S. Air Force, has nevertheless attempted to distance himself from Trump. His finance chair, Hal Daub, a former congressman who represented the Blue Dot in the 1980s before becoming mayor of Omaha, says: "Mr. Bacon's millstone is arguably Trump, but less so all the time. A day is a year, a week is a decade."
Nebraska's Republican governor, Pete Ricketts, endorsed Trump in May. Ricketts is the son of Joe Ricketts, founder of the Omaha-based TD Ameritrade brokerage. According to adviser Brian Baker, the senior Ricketts plans to give $1 million to a pro-Trump super PAC in the coming weeks despite the family spending $5.5 million trying to block the New York real estate mogul's bid for the nomination earlier this year.
Nebraska Democrats have their own billionaire, Warren Buffett, who has endorsed Clinton and made small contributions to the local Democratic Party committee. He appeared at an August rally with Clinton in Omaha. He announced a website that will connect drivers with voters who need a lift to the polls on Election Day. Buffett pledged to drive at least 10 people himself in a rented trolley bus. "My goal is to have the turnout here be the highest percentage of potential voters of any district in the country," he said. Clinton responded with an enthusiastic promise: If Buffett has his way in November, "Warren and I will dance through the streets of Omaha together!"
—With Zachary Mider
(
Corrects 2012 vote differential in sixth paragraph.
)
Before it's here, it's on the Bloomberg Terminal.
LEARN MORE