Wanted: CEO for Tel Aviv Stock Exchange Fighting for Survival
by
Plunging volumes and dearth of IPOs threaten bourse's future

Departing CEO Beinart was unable to reverse market's decline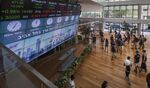 Israel's bourse is seeking a new chief executive officer after Yossi Beinart resigned for health reasons.
The Tel Aviv Stock Exchange announced his departure in a statement on Wednesday, the same day a senior Nasdaq OMX executive said it needed to reform quickly or it might cease to exist. The TASE board will meet on Thursday to appoint a search committee to find a replacement for Beinart.
Israel's only exchange has been battling a collapse in trading volumes and dearth of initial public offerings after an MSCI Inc. upgrade to developed-market status in 2010 forced it to compete for investor attention with much larger markets. The bourse, which is reforming its indexes and privatizing in a bid lure more investment, is poised to report its first loss in 30 years, local newspaper Calcalist reported Tuesday, citing a presentation sent to members of the board.
"Processes for significant change, which include demutualization, need to move forward quickly and successfully or Israel won't have a stock exchange," Sandy Frucher, Nasdaq vice chairman, said at a conference in Kiryat Ono, Israel. "The bourse suffers from bad branding and a perception of over-regulation."
Beinart went on leave for health reasons in June. The former CEO of IG Group Holdings Plc's Nadex market joined the bourse in 2014.
Before it's here, it's on the Bloomberg Terminal.
LEARN MORE