Wall Street's Lead Bull Sees Fed Paving Way to Record in S&P 500
by
Fundstrat's Lee says Fed, BoJ decisions bring market clarity

Earnings growth and energy recovery also supporting equities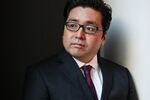 To the biggest bull on Wall Street, the Federal Reserve's decision to hold interest rates steady is one more reason that U.S. stocks are on their way to record highs.
"This really helps," said Thomas Lee, managing partner and co-founder of Fundstrat Global Advisors in New York. His estimate for the S&P 500 Index to climb to 2,325 by year-end is the most bullish among 19 strategists surveyed by Bloomberg.
Stocks rallied 1.1 percent on Wednesday as the Fed left interest rates unchanged and lowered its outlook for long-term rates. The decision followed one by the Bank of Japan to continue loosening its policy while limiting the impact of low rates on financial institutions.
"Investors were on the sidelines and now we've got the BoJ and Fed behind us and they're essentially in line and somewhat friendly to markets," Lee said. "This is going to result in investors putting money to work over the next few weeks."
Target In Sight
After spending almost two years calling for a bigger equity rally than any of his peers, Lee says his target is in sight, with the S&P 500 needing to rise 7.5 percent by the end of the year. The average analyst estimate suggests the index will fall to 2,147 in the next three months. The benchmark for U.S. stocks ended last year 12 percent below Lee's estimate.
Clarity from central banks will lead more investors to buy stocks in the coming weeks, he said. From there, corporate earnings growth and gains in the U.S. economy will further favor stocks.
"The market is up year-to-date, the central banks aren't changing what they're going to do and the economy is holding up where it is," Lee said. "It makes sense markets should be rallying. There are other factors that are supportive: the cost of credit, the consumer is in good shape."
Lee expects earnings to play a big part in any rally. Analysts are predicting the fastest earnings expansion since the bull market began, according to data compiled by Bloomberg. Hitting those forecasts would require profits to rise by 13 percent next year, which Lee sees as doable.
"It's not crazy," he said. "Energy is really hammering earnings this year. If their margins just stabilize next year the math is kind of compelling. There aren't many companies that need to stop losing money to do better next year. They don't have to grow, they just have to stop losing money."
Before it's here, it's on the Bloomberg Terminal.
LEARN MORE