U.S. Stocks Rise as Fed Holds, Signals Further Patience on Hikes
By and
Yellen says asset values not out of line with historical norms

Policy makers decide to wait for more progress on inflation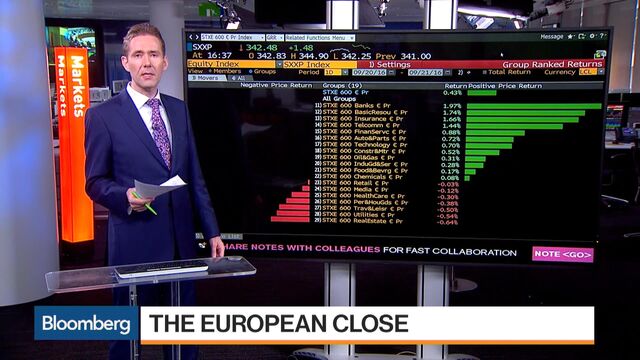 U.S. stocks rallied after the Federal Reserve kept interest rates steady even as the economy showed signs of improving, removing at least for six weeks an obstacle for equities that rekindled volatility this month.
Shares surged as the central bank opted to wait for further evidence of stronger inflation before boosting borrowing costs, while officials signaled growth remains on track to achieve their goals. Utilities, energy and raw-materials producers -- among the year's best performers -- jumped the most in two months. Boeing Co. and Caterpillar Inc. increased 2.2 percent to lead industrials.
The S&P 500 Index gained 1.1 percent to 2,163.12 at 4 p.m. in New York, the most on a Fed day since December, when it raised rates for the first time in a decade and the market ended 1.5 percent higher. The Dow Jones Industrial Average added 163.74 points, or 0.9 percent, to 18,293.70, and the Nasdaq Composite Index rose 1 percent. About 7.6 billion shares traded hands on U.S. exchanges, 12 percent above the three-month average.
"You've got one sort of near-term risk factor off the table for investors, and markets like certainty," Mike Bailey, director of research at FBB Capital Partners, which manages about $900 million, said by phone. "The market overall was pretty confident you wouldn't see a rate increase today and we saw that achieved. The question now is what are the major catalysts. Earnings season is number one. You've got minor global catalysts like a referendum in Italy, the Brexit situation and the rate hike."

Policy makers said the case for higher interest rates has strengthened, but they decided "to wait for further evidence of continued progress" toward the central bank's objectives. Three officials voted against the decision, up from one at the last meeting, and the Fed signaled it's still prepared to raise rates in December. At the same time, the outlook for the path of rates indicated they expect fewer hikes in 2017 and over the long run.
Stocks extended gains as Fed Chair Janet Yellen said that asset valuations are "not out of line with historical norms." The S&P 500 trades at more than 18.4 times projected earnings, the highest since 2002. Yellen also reiterated that the Fed can tighten quickly if inflation were to increase toward the long-term goal of 2 percent, while raising rates too soon could damp growth.
"Our decision does not reflect a lack of confidence in the economy," Yellen said at the start of her press conference. "Since monetary policy is only modestly accommodative, there appears little risk of falling behind the curve in the near future."
The latest from the Fed came after the BOJ's tweaks on Wednesday that give it scope to keep loosening policy to revive the economy and inflation, while limiting the negative impact on bank earnings. Based on fed funds futures trading, odds for rate increase in December were 59 percent, unchanged from levels before the FOMC's statement today.
"This is probably more hawkish than I would've expected -- three dissenters in and of itself is more hawkish," said Krishna Memani, New York-based chief investment officer at Oppenheimer Funds Inc., which oversees $223 billion. "Data would have to weaken for them not to do anything in December, that's the nuance more than anything. This is more affirmation of what we are thinking as opposed to, 'We need data to figure out what we are thinking.' The likelihood is still that they'll hike in December."
Optimism over policy adjustments made by the Bank of Japan earlier faded, with a morning surge in equities evaporating for a third-straight session before equities rebounded following the Fed statement and Yellen press conference.
Stocks have struggled for direction since Sept. 9, when worries that central bankers may be losing their appetite for further stimulus efforts spurred the biggest slump since the U.K. secession vote in June, ending the summer's calm. The S&P 500 on Wednesday posted only its second back-to-back advances this month. The CBOE Volatility Index tumbled more than 16 percent, the most since June, to erase a monthly gain that had reached 35 percent just a week ago.
Wednesday's rally was a departure from the prior two Fed days that left stocks lower after erasing gains. At the June meeting, policy makers signaled more caution on the growth outlook, while Britain's vote on European Union membership still loomed. After a two-day plunge following the U.K. vote, U.S. shares surged to all-time highs on improving economic data and as global central banks indicated their willingness to act to offset Brexit damage.
The Fed also emphasized a gradual pace of rate increases after its July meeting amid uneven data and the possible fallout from Brexit. The S&P 500 then remained in one of its tightest trading ranges ever, lingering near records until a selloff earlier this month.
Among shares moving Wednesday on corporate news, Adobe Systems Inc. jumped the most since December 2014, rising 7.1 percent after forecasting a better-than-estimated quarterly profit. FedEx Corp. surged 6.9 percent to a three-month high after raising its full-year earnings outlook.
— With assistance by Dani Burger, and Sofia Horta E Costa
Before it's here, it's on the Bloomberg Terminal.
LEARN MORE