U.S. ELECTION WRAP: Senate Democrats Find Silver Lining in Wisconsin
A new Wisconsin poll gives Democrats new hope in their push to gain control of Senate.
By and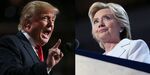 Most recent polls haven't been great for Senate Democrats, with Republicans increasingly confident about retaining their fragile majority. Yet Democrats got a jolt today, with new data showing growing weakness in Republican Sen. Ron Johnson's fight for a second term in Wisconsin.
Democrat Russ Feingold is running ahead of Hillary Clinton in Wis., and has expanded his lead over Johnson over the last 3 weeks, according to a new survey from Marquette Law School, the state's premier pollster
Feingold, a former three-term U.S. senator, leads incumbent Johnson 47%-41%; that's improvement for Feingold from late Aug., when his lead was just 3 ppts
Meanwhile, Clinton is at 44% to Donald Trump's 42% in the state, a result within the poll's 4.8 ppt error margin

In 4-way race with Libertarian candidate Gary Johnson and Green Party's Jill Stein, Clinton draws 41% support, Trump 38%, Johnson 11% and Stein 2%

NOTE: Wis. is one of two Republican-held Senate seats that lean toward Democrats in the Nov. 8 elections, according to the non-partisan Cook Political Report; the other is Ill.

Winning Wis. is critical for Democrats hoping to take control of the U.S. Senate; they need to pick up at least 4 seats to regain control if Clinton also wins the presidency

ON THE TRAIL
Police shootings in Okla., N.C., reverberated on the campaign trail Wednesday
Donald Trump, at largely-black church in Cleveland, says of black man killed by white police officer last week in Tulsa that "to me it looked like he did everything you're supposed to do, and he looked like a really good man"

"This young officer, I don't know what she was thinking, but I'm very very troubled by that," he says of shooting death of Terence Crutcher
"Did she get scared, was she choking, what happened?"; "People that choke, maybe they can't be doing what they're doing"

Clinton, in Orlando, said she doesn't have all the answers on the issue, adding Americans must work together

She says after deaths of black men in Tulsa, Okla., and Charlotte, N.C., that "it's unbearable, and it needs to become intolerable"
Says U.S. has also seen targeting of police officers in Philadelphia, Charlotte; police handled terror attacks in Minn., N.Y., N.J. "exactly right" and "likely saved a lot of lives," she says

POLLS
FiveThirtyEight on Clinton's chances of winning:

If election today: 55.1%
Polls-only forecast: 56.9%
Polls-plus forecast, which also incl. economic and historical data: 56.3%

Clinton up 4 ppts on Trump among those with income >$100k, a group Mitt Romney carried by 10 ppts in 2012: Bloomberg poll
National polls

Reuters/Ipsos: tie in head-to-head matchup between Clinton and Trump
Economist/YouGov: Clinton up 1 ppt

FL: Clinton leads Trump by 5 ppts: Monmouth
NH: Clinton up 9 ppts: Monmouth

ADS
Clinton continues to outspend Trump in television advertising in key states, Bloomberg's Ken Goldstein, John McCormick and Andre Tartar report

"The last time a Republican candidate had such a modest footprint on television was in 1948, before television"

FUNDRAISING
Major Republican donors are spending big -- just not on Trump, Bloomberg's Zachary R. Mider reports

The casino magnate Sheldon Adelson and his wife, Miriam, contributed $20m in Aug. to a group backing Republican Senatorial candidates, according to reports submitted to the Federal Election Commission on Sept. 20. Meanwhile, Adelson, the biggest donor in the 2012 election cycle, was reported to be considering spending only $5m to help Trump.
With less than two months until the election, the reports Tuesday showed little sign of a last-minute surge that would help Trump compete on the airwaves with Hillary Clinton, who has raised and spent far more than Trump and began Sept. with $152m on hand between her campaign and joint accounts with the Democratic party

ETC
Trump's economic adviser Peter Navarro late yday criticized the Fed for keeping interest rates low

"What we have is a stock market that is the Obama paper bull"
"The Federal Reserve, in keeping interest rates low in conjunction with an Obama administration —- which doesn't know how to get the economy going again -— has created this false situation. And I think it's fair to say that the Fed has been playing along with it"
NOTE: A divided Fed today left its policy interest rate unchanged, signaled increase still likely by year's end

Boxing promoter Don King, campaigning with Trump in Ohio, let slip a racial epithet
Sander Levin, top Democrat on House Ways and Means Cmte, says in letter the IRS should examine whether Donald Trump's foundation "violated self-dealing laws by using charitable funds for personal benefit."

CONGRESSIONAL ELECTIONS
SENATE RACES (Republicans hold 54-46 majority)
AZ: Republican Sen. John McCain's campaign TV ad charging Democratic Rep. Ann Kirkpatrick with "walking out on constituents" questioning her on health-care policy at 2009 town-hall meeting is "half-true," according to Politifact

Ad "fails to mention" that protesters disrupted event or that Kirkpatrick "returned for a health care town hall a month later," Politifact said

CA: State Atty. Gen. Kamala Harris leads Rep. Loretta Sanchez 42%-20% with 26% undecided, according to Field Poll conducted Sept. 7-13 of 1,426 likely to vote in Nov. 8 election

Another 12%, mostly Republicans, said they'll abstain from voting in all-Democratic race

FL: Democratic Rep. Patrick Murphy's campaign released TV ad describing Republican Sen. Marco Rubio as "reckless" for opposing abortions in cases of rape and incest

Rubio said during presidential campaign he will "err on the side of life" and that Democrats are "extremists" on abortion

IL: Democratic Rep. Tammy Duckworth's campaign aired TV ad with military veteran saying Republican Sen. Mark Kirk "lied" about his military record and has "zero credibility"

Ad also highlights Duckworth's military service as Army helicopter pilot and plan to defeat Islamic State terrorists with mix of diplomatic/economic pressure, special forces, and better intelligence from precision air strikes
Kirk's campaign website falsely asserted he was a "veteran of the Iraq war" when Kirk was in U.S. during conflict, CNN reported

Kirk campaign officials said "third-party vendor had drafted the language that they said had not been vetted or reviewed by the senator's staff," according to CNN

IN: National Rifle Association's Institute for Legislative Action in TV ad said if Democratic ex-Sen. Evan Bayh is elected, "you can kiss your gun rights Bayh Bayh"

Ad cites Bayh's votes for "anti-gun" Supreme Court Justices Sonia Sotomayor and Elena Kagan, confirmed 68-31 in 2009 and 63-37 in 2010 respectively with some GOP support
Ad cites Bayh's votes in 2005 for measure that would have expanded ban on armor-piercing ammunition and in 2004 for 10-year renewal of ban on certain semiautomatic assault-style weapons
Bayh's campaign manager said the ad is "misleading about Bayh's record," Indianapolis Star reported
Bayh and Republican Rep. Todd Young seeking seat of retiring GOP Sen. Dan Coats

NH: Republican Sen. Kelly Ayotte's campaign released 60-second TV ad featuring parents of young woman who died of drug overdose

Ad highlights Ayotte's work on new law to combat opioid abuse
Ayotte has 47% compared with 45% for Democratic Gov. Maggie Hassan, according to Monmouth University Poll conducted Sept. 17-20 of 400 likely voters (+/- 4.9 ppts)

Meanwhile, Independence USA PAC, a super-PAC funded by ex-NYC mayor Michael Bloomberg, released TV ad critical of Ayotte for voting to defund Planned Parenthood

Ayotte has said the federal money should be redirected to community health centers
NOTE: Bloomberg is founder and majority owner of Bloomberg News parent company Bloomberg LP

NV: Heck Yeah! is name of joint fundraising committee that will raise money for Republican Rep. Joe Heck and his leadership PAC, Full House PAC, according to FEC filing

Heck opposed by Democrat Catherine Cortez Masto, a former state Atty. Gen.; Democrat Harry Reid not seeking re-election

OH: Democratic ex-Gov. Ted Strickland's campaign in TV ad featured military veteran criticizing Republican Sen. Rob Portman's record on gun policy

Ad cites Portman's vote in June against Calif. Democrat Dianne Feinstein's proposal to authorize Justice Dept. to block a gun sale to a known or suspected terrorist

Portman backed alternative by Texas Republican John Cornyn, saying it had "stronger due process protections" and was "tougher on terrorism" than Feinstein measure

PA: Republican Sen. Pat Toomey is "an advocate for the state's large coal and gas industries" while Democrat Katie McGinty is "a proponent of federal climate regulations" who backs renewable energy measures, according to S&P Global analysis of top races where energy policy is a key policy difference

McGinty, a former aide to Democratic Gov. Tom Wolf who previously worked in White House, has background in environmental policy

WA: Democratic Sen. Patty Murray transferred $1m in campaign funds to Democratic Senatorial Campaign Cmte, Seattle Post-Intelligencer reported

Murray, chamber's 4th-ranking Democrat, safe for 5th term against Republican Chris Vance according to nonpartisan political analysts
HOUSE RACES (Republicans hold 246-186 majority)
FUNDRAISING: National Republican Congressional Cmte began Sept. with $65.4m campaign cash-on-hand compared with $63.2m for Democratic Congressional Campaign Cmte, according to FEC filings

DCCC outraised NRCC $11m to $6.7m during Aug.

AZ-01: Democrat Tom O'Halleran's campaign aired TV ad saying his "plan to hold the politicians accountable" includes "no budget, no pay" legislation that would delay lawmakers' salary if Congress doesn't adopt annual budget resolution

O'Halleran opposed by Pinal County Sheriff Paul Babeu for competitive district held by Kirkpatrick

NJ-05: Republican Rep. Scott Garrett's campaign released TV ad in which first responders say Democrat Josh Gottheimer misrepresented Garrett's record on aid for 9/11 rescue workers

Garrett in Sept. 2010 was only member of N.J. delegation who voted against a version of bill House passed; in Dec. 2010 he voted for final version that became law
In Dec. 2015, Garrett voted against $1.1t omnibus spending law that included extension of health benefits, though he said he supported more 9/11 aid; TV ad referred to catchall measure as "debt spending and a massive tax increase"
Ad first ran on broadcast this morning on NYC's ABC affiliate, which reaches viewers in the northern N.J. district, according to Kantar Media/CMAG

IN-09: Democrat Shelli Yoder in TV ad says she's "still tight with a dollar" and will "work with both parties to cut wasteful spending and focus on creating better jobs for Hoosiers"

Ad doesn't mention Republican businessman Trey Hollingsworth, Yoder's opponent for southern district now held by Senate candidate Young
Yoder, a county councilwoman, lost 55%-45% to Young in 2012

NV-04: Republican Rep. Cresent Hardy is "facing a tough re-election bid" in "moderately blue" district, Las Vegas Sun reported in detailed profile of Hardy's campaign for second term vs. Democratic state Sen. Ruben Kihuen

District voted 54%-44% for Obama in 2012, includes most of N. Las Vegas and part of Las Vegas

NY-19: DCCC TV ad likened Republican ex-state Rep. John Faso to a broken record aligned with "special interests" and "politics as usual"

Faso, Democratic law professor Zephyr Teachout seeking to succeed retiring GOP Rep. Chris Gibson in competitive Hudson Valley district

UT-04: Republican Rep. Mia Love's campaign in TV ad featured constituent praising Love's responsiveness on veterans' issues

Love opposed by Democrat Doug Owens in rematch of their close 2014 contest in Republican-leaning district
Before it's here, it's on the Bloomberg Terminal.
LEARN MORE