Tesla Sued by Norway Car Owners as Speed Not Insane Enough
by
Customers seek reimbursement on Model S P85D performance

Oslo District Court sets mid-December dates for hearings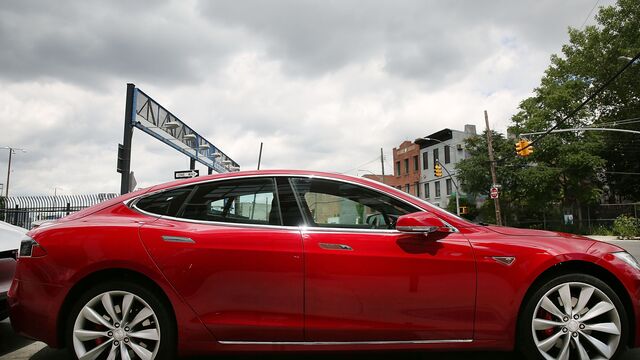 Tesla Motors Inc. customers in Norway are seeking money back from the U.S. electric-car manufacturer, saying their models marketed with an "insane mode" of acceleration didn't go fast enough.
Some 126 owners of the Tesla Model S sedan's P85D performance version are seeking unspecified reimbursements after the model only reached 469 horsepower instead of a pledged 700 hp, said Kaspar N. Thommessen, an attorney at Wikborg Rein law firm representing the plaintiffs. 
The car "has too low horsepower," the lawyer said Wednesday in an e-mailed response to questions. "And of course, it affects the car's performance, according to the consumers."
Tesla rejected the claims. The car meets requirements "according to the measurement method required by the authorities," said Even Sandvold Roland, a spokesman for the automaker. Oslo District Court said it has scheduled hearings in the case for mid-December.
Norway is one of the biggest markets for the Model S, in part because of state subsidies to encourage electric-car purchases. Tesla no longer sells the P85D variant there, while the successor P90D costs 801,000 kroner ($96,700). The earlier model was known for its "insane mode" acceleration option after it came out two years ago. Norway's Consumer Disputes Commission ruled in June that five P85D buyers who complained of inadequate acceleration should be reimbursed as much as 50,000 kroner apiece.
Tesla's own tests and independent checks showed the P85D can accelerate from 0 to 100 kilometers (60 miles) per hour in 3.1 to 3.3 seconds. That indicates the performance figures "have always been accurate," Sandvold Roland said in an e-mail.
Dagens Naeringsliv newspaper reported on the lawsuit earlier Wednesday.
Before it's here, it's on the Bloomberg Terminal.
LEARN MORE