Stumpf's Bad Day in Senate Ends With Wells Fargo Up $2.8 Billion
by , , and
Wells Fargo stock leads banks higher amid senate criticism

'Liz Warren doesn't matter, Warren Buffett does,' analyst says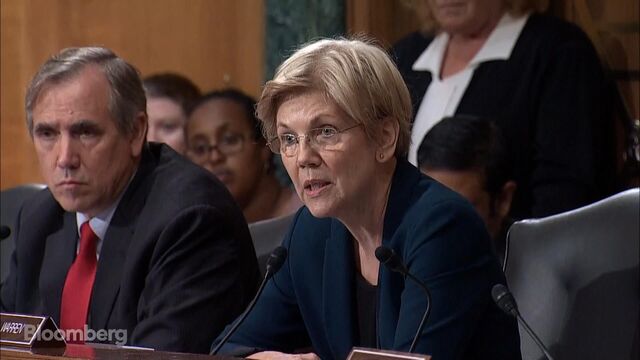 Wells Fargo & Co. Chief Executive Officer John Stumpf's grilling at a Capitol Hill hearing Tuesday boiled down to this on Wall Street: It was ugly, but not a disaster -- maybe even a good time to buy the bank's stock.
The lender's market value rose $2.8 billion on the day -- the second-best performance by a major U.S. bank -- as Stumpf faced Senate Banking Committee members demanding he and senior executives face consequences for letting employees open legions of unauthorized customer accounts over years. Analysts and investors said the lashing may leave the bank with a reputational scar, but one from which the bank can recover.
"Once he stopped talking, investors could say, 'It's done, I didn't see anything that was fatal, so I can come in and start buying stock,'" said Marty Mosby, an analyst at Vining Sparks. "These were new investors looking for the right entry point."
Stumpf, 63, isn't in the clear yet. For shareholders, the focus now shifts to Wells Fargo's board, which will decide whether to punish him and other executives, a point he made at least 15 times Tuesday. Options include ousters, or cutting or reclaiming pay. Such matters are handled by the board's human resources committee, a five-member panel of past and current CEOs from across corporate America, some of whom have experience facilitating leadership changes.
Warren's Demands
Senator Elizabeth Warren urged Stumpf at the almost three-hour hearing to return compensation he received during the misconduct and resign, accusing him of "gutless leadership" for blaming junior employees. Analysts said what's more important is the view of its biggest shareholders, led by Berkshire Hathaway Inc.
"Liz Warren doesn't matter, Warren Buffett does," said Isaac Boltansky at Compass Point Research & Trading LLC, referring to Berkshire's chairman and CEO, whose firm owns 10 percent of Wells Fargo.
Buffett, who appeared by video later Tuesday at a global affairs conference, maintained his public silence on the scandal. Highly regarded for his record of creating wealth, Buffett has lent support to other banking leaders under fire. In 2013, after JPMorgan Chase & Co. posted a trading loss on credit derivatives and worked to settle regulatory probes, Buffett publicly praised CEO Jamie Dimon. He also has defended chiefs of Goldman Sachs Group Inc. and Bank of America Corp. since the financial crisis.
"Buffett will leave Wells Fargo alone if he thinks that the company is doing everything it is asked by the government and everything needed to make amends," said Bill Smead, who oversees about $2.2 billion including Berkshire and Wells Fargo shares at Smead Capital Management. "If he concludes that more is needed or that there is no way to be confident in management's integrity, he will get involved."
For more on how Berkshire aims to boost its Wells Fargo stake, click here
Stumpf has led Wells Fargo as CEO since 2007, building it into the world's most valuable bank -- a crown it ceded to JPMorgan after the scandal broke this month. The board is now under pressure to take at least some steps quickly to hold executives accountable before the House Financial Services Committee calls Stumpf back to Washington for its own hearing later this month, according Jaret Seiberg, an analyst at Cowen & Co.
"The issue will be whether the bank has answers on clawbacks, bonuses and employment that can satisfy lawmakers," Seiberg told clients in a note on Tuesday. Stumpf's attempts at the hearing to defer to the board on such questions was "a losing argument," the analyst wrote. "The responses just further inflamed the populist dislike of the megabanks."
Decision Makers
The human resources committee is led by Lloyd Dean, CEO of hospital system Dignity Health. All but one of the panel's members joined the board before Stumpf took the bank's helm. And at least a few have experience on other boards that abruptly replaced CEOs.
Susan Engel, for example, was running the leadership development and compensation committee for Supervalu Inc.'s board in 2012 when the grocer replaced its CEO to speed a turnaround. Stephen Sanger was on the board at Pfizer Inc., sitting on its corporate governance committee, when the company announced in 2010 that its CEO was retiring, effective immediately, as it prepared to face generic competition for a top-selling drug.
All of the committee members know what it's like to run companies. Engel is the former CEO of tableware maker Lenox Group Inc. and online retailer Portero Inc. Sanger led cereal maker General Mills Inc. The other members are John Chen, CEO of BlackBerry Ltd., and Donald James, former head of gravel company Vulcan Materials Co.
Stumpf "said the process was under way -- and it is," James said when reached by phone Tuesday, declining to elaborate. "You will hear more about that process."
The other committee members declined to comment or couldn't immediately be reached. Oscar Suris, a bank spokesman, declined to make any board members available for interviews or comment on what steps they make take, or how soon.
"The board has the tools to address executive accountability, and John will accept and address whatever it decides," Suris said. "He also doesn't want to say anything to prejudice the process."
Dimon's Example
The tenor of Tuesday's hearing contrasted with JPMorgan CEO Dimon's testimony before the same committee in June 2012 on the so-called London Whale trading debacle, in which the firm lost more than $6 billion. While some lawmakers grilled Dimon over the incident, others apologized for questioning him or sought his opinion on subjects including regulation and the national budget.
"People were using Jamie Dimon and the London Whale hearings as the barometer" for how Stumpf should have fielded questions, said Ed Mills, a financial-policy analyst at FBR & Co. and a former adviser to Democrats in the House and Senate. Dimon "had a more 'buck stops at him' response."
In that case, some of JPMorgan's managers resigned, and the bank ousted traders involved, shuffled senior leaders, overhauled internal controls and ordered an internal investigation that culminated in a 129-page public report. The board cut Dimon's pay by half to $11.5 million for the year. Lawmakers held multiple hearings and followed up with their own report criticizing the bank's ability to handle risks and its interactions with regulators. Shareholders ultimately backed Dimon, voting to let him keep his dual role as both chairman and CEO.
Stock Swings
Wells Fargo's scandal ignited Sept. 8, when the San Francisco-based bank agreed to pay a record $185 million to authorities including the Consumer Financial Protection Bureau after a review found employees may have opened more than 2 million deposit accounts and credit cards without consumers' permission. Its stock tumbled 8.7 percent by the end of last week, bringing the year's decline to 16 percent. It has since regained 2.5 percent.
Morgan Stanley analyst Betsy Graseck upgraded the bank's shares to overweight before Tuesday's hearing began, telling clients in a note that it's "rarely this inexpensive." Any additional fines are likely to be limited, she said.
To be sure, U.S. Comptroller of the Currency Tom Curry said his agency could still pursue its own enforcement action against people at Wells Fargo. And Warren said the Department of Justice and Securities and Exchange Commission should investigate as well.
And even without further sanctions, concerns voiced at the hearing about the challenges of managing big banks may yet gain momentum, potentially leading to industrywide fallout, according to Seiberg, the Cowen analyst.
"Wells Fargo did something that many thought impossible. It united Democrats and Republicans on the committee," he said. "The market underappreciates the risk that Congress over the next few years may take steps to restructure or break up the biggest banks. The argument will be that Wells Fargo was supposed to be the gold standard and even it was too big to be properly overseen by its board."
Before it's here, it's on the Bloomberg Terminal.
LEARN MORE