Shenhua Said to Be Allowed Higher Coal Output to Curb Prices
Bloomberg News
Miner set to raise production by as much as 2.79m mt in Sept.

Steelmakers lobby govt to raise coal supply amid low stocks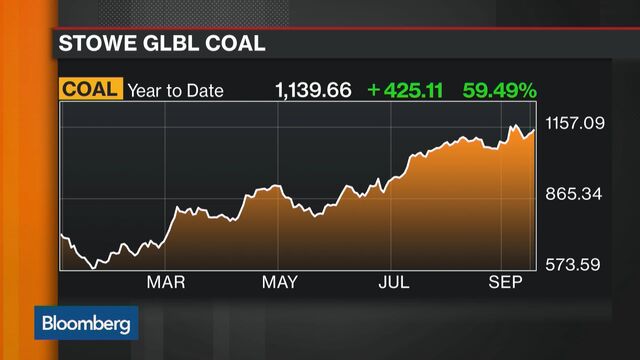 China's biggest coal producer will raise output this month amid a government-led attempt to coordinate production after a price surge this year drew complaints from consumers.
Fourteen coal mines owned by Shenhua Group may raise coal output by as much as 2.79 million metric tons this month, according to people with direct knowledge of the matter, who asked not to be identified because the information is private. Inner Mongolia Yitai Group Co. and China Huadian Corp. have also been allowed to increase output in September.

Coal prices have increased as Chinese mining slows while robust steel output boosts demand. The country's thermal coal benchmark has gained almost 50 percent this year, according to China Coal Transport and Distribution Association, while metallurgical prices have more than doubled. The surge has sparked concern among consumers such as power plants and steelmakers, causing the Chinese government to intervene to stabilize prices.
"China's coal market is all about policy intervention now," Yao Yao, a Shanghai-based coal analyst with GF Securities said by phone, "From now through year-end, what we will see is a price floor and ceiling hovering between a range that is both sensible for producers and end users."
Steel Petition
Shenhua Group's Hong Kong-listed unit China Shenhua Energy Co. gained 2.8 percent to HK$15.24 as of 9:57 a.m. local time, compared with a 1.4 percent advance in the city's benchmark Hang Seng Index. Yitai Group's Hong Kong-listed unit Inner Mongolia Yitai Coal Co. rose 3.9 percent, while China Huadian's unit Huadian Power International Corp. Ltd climbed 2.3 percent.
Chinese steelmakers petitioned the government for higher coal output as rising prices and tight supplies hurt operations, according to a letter seen by Bloomberg News on Wednesday from the China Iron and Steel Association to the National Development and Reform Commission, the country's top economic planner.
Coal miners in the U.S. and other countries may restart some shut capacity to meet Chinese demand, according to the letter. The NDRC didn't reply to a fax seeking comment. Two calls each to Shenhua Group and Inner Mongolia Yitai's press offices went unanswered, as did those to CISA's general office phone line. Huadian declined to comment.
'Comfortable Range'
China Shenhua, the listed unit, aims to produce 280 million tons of coal for commercial use in 2016, a 0.3 percent decrease from 2015, according to its annual report. China's coal output fell 10.2 percent between January and August to 2.18 billion tons, according to the National Bureau of Statistics.
The government is targeting prices in a "comfortable range" of 450 yuan to 500 yuan ($67 to $75) for Bohai-Rim coal, the benchmark for six coal ports in China, according to Citigroup Inc. The grade this week was priced at 554 yuan, according to CCTD.
Chinese miners have agreed to coordinate production to help stabilize prices. They will boost supply by 200,000 tons per day if prices gain for two consecutive weeks and climb above 460 yuan a ton, according to a Shanghai Securities News report. The deal also has specific output additions should the price hit 480 and 500 yuan a ton, respectively, the report said. The agreement has similar levels at which to cut output if coal prices decline for two consecutive weeks.
— With assistance by Sarah Chen, Heng Xie, Alfred Cang, and Steven Yang
Before it's here, it's on the Bloomberg Terminal.
LEARN MORE