Super Bowl Tickets Go on Sale Direct to Fans, Starting at $5,500
By and
9,500 seats will be packaged, sold online for the first time

Perks include pre- and post-game parties, on-field access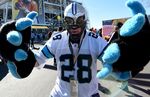 For the first time, fans can buy Super Bowl tickets straight from the National Football League.
Starting today, the NFL will make Super Bowl LI ticket packages available through a site run by Ticketmaster. For as little as $5,500 and as much as $12,000, fans will get to pick their specific seats, attend parties before and after the Feb. 5 championship in Houston and, in some cases, get on-field access after the game.
"Now you have certainty that what you're buying is what you're getting, right down to the seat location," said John Collins, chief executive officer of On Location Experiences, which is assembling the packages for the league. The company, which began as a specialized travel-and-entertainment arm of the NFL, will get 9,500 tickets to sell.
Until now, tickets for the Super Bowl have only been distributed through the NFL and its 32 teams. For Super Bowl 50, the participating teams received 35 percent of the tickets, the host San Francisco 49ers got another 5 percent and the remaining 29 franchises were allocated 1.2 percent each. The league claimed the final 25 percent.
Regular people who want to go to the game have turned to the secondary market, where tickets can be expensive -- top seats can sell for more than $25,000 -- and deals can fall through. 
Most ticket brokers offer Super Bowl tickets "on spec," which means they don't actually have the ticket they're selling but they're confident they can get one. In 2015, when the New England Patriots faced the Seattle Seahawks, demand was so high that those selling on spec couldn't fulfill orders and the market collapsed. Many fans didn't receive the tickets they'd bought, and in the fallout, brokers faced lawsuits and went out of business.
The NFL is an investor in On Location Experiences through 32 Equity, the league's private equity arm. Jon Bon Jovi is also a co-owner. OLE, which is run by executives from Bruin Sports Capital and RedBird Capital Partners, will also sell packages in January after the Super Bowl participants have been determined.
Before it's here, it's on the Bloomberg Terminal.
LEARN MORE