May's Iron Lady Persona Dims as Parallels With Loser Brown Mount
By
New U.K. premier assumed power, like Brown, without elections

Brown broke with Blair, and she is taking apart Cameron legacy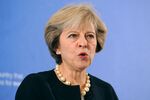 Taking office as Britain's prime minister, Theresa May enjoyed comparisons to the first woman to do that job, Margaret Thatcher. Two months in, being likened to Gordon Brown comes across more as a warning.
Brown, who succeeded Tony Blair as prime minister in 2007, had been a successful finance minister for a decade. But he struggled in the role of prime minister, delaying decisions and alienating colleagues. May, who has been Home Secretary for six years, takes the top job with Britain facing its biggest challenge in decades: The negotiation of a successful Brexit.

"They're both introverts, and introverts make very good managers of a department that can concentrate on two or three things," said Tim Bale, professor of Politics at Queen Mary, University of London. "But being prime minister requires people to be able to multitask. Brown found that the need to make quick decisions about a raft of policies every day without over-thinking them was too much for him."
UN Debut
One of the most eagerly-anticipated leaders at the United Nations, May offered no fresh insight into how the U.K. would leave the European Union. It remains to be seen whether a tendency to keep a tight personal rein on government matters, a quality also attributed to Brown, will aid or hinder her in pulling off negotiations too hard and complicated for one person to manage alone.
Asked about the idea that she resembles Brown by reporters traveling with her to New York this week, May laughed. "I missed that," she said. But Stewart Wood, who was one of Brown's closest advisers, said he for one could see "superficial similarities."
"Like Gordon when he arrived in power, she is keen to project a low-key, unflashy, 'get on with the job' aura about her administration," he said.
Brown found his feet and his voice when wrestling with the credit crunch, a crisis that played to his strengths as a long-serving former finance minister. But initial attempts to micro-manage his government foundered as the financial crisis overtook the country. "Besieged by events," Wood said, he was unable to push an agenda of his own.
Her Way
May is treating her crisis, Brexit, as one that's principally about immigration, an issue she understands from her time as a long-serving Home Secretary. Her approach so far has been to wrest control of all the levers of government, while keeping her thoughts to herself. 
On the Hinkley Point nuclear power plant decision, the leaders of France and China were left guessing whether she was going to block the project.  Only a handful of people from her inner circle are allowed to give interviews, and she herself has only given two.
Click here to read about how the U.K. and Europe May Get on After Divorce
Brown's own political trajectory is a cautionary tale of sorts on how not to avoid certain pitfalls. Both he and May came to power after their predecessors resigned and their rivals dropped out of the race. But whereas Brown allowed talk of a snap general election before backing away at the last minute, May ruled out an early election from the start.
Shunning Limelight
Both had forerunners who were comfortable in the limelight. But where Brown was disheveled, May is always immaculately turned out, with an enviable shoe collection. And while she's rigid on camera, when it's turned off, she can be more expressive and engaging.
Here is another dilemma she shares with Brown: Do you sever ties with the one that came before you? 
"I always felt that Gordon's fundamental choice was whether to repudiate or continue the Blair agenda," Wood said. "In the end he chose a bit of both."
For better or for worse, the perception is that May is intent on picking apart her predecessor's legacy bit by bit. The latest example was her decision to bring back academically selective state schools. Cameron resigned as a lawmaker three days after May announced the schools policy.
Sign up to receive the Brexit Bulletin, a daily briefing on the biggest news related to Britain's departure from the EU.
Even if she does have a few things in common with Brown, May has more reasons to be optimistic about her prospects. Throughout his time in office, Brown faced a disciplined Conservative Party opposition led by Cameron, who would defeat him in the 2010 election. May faces a divided Labour Party under Jeremy Corbyn, a man rejected as a leader by most of his own lawmakers. 
Before it's here, it's on the Bloomberg Terminal.
LEARN MORE