business
London's Less Vital After Brexit Than Banks Think, EU CEOs Say
By and
U.K. warns cutting off access to bloc would hurt EU firms more

EU companies say they can turn elsewhere if City loses access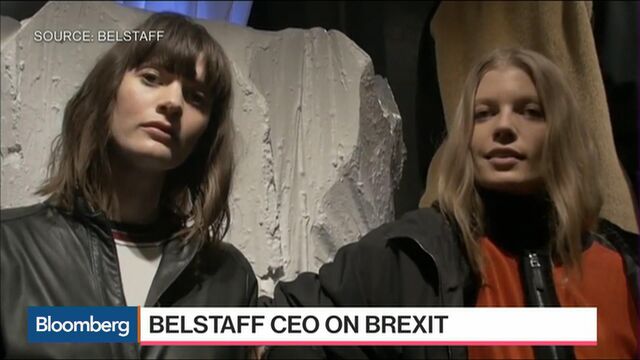 Executives across the European Union are dismissing warnings from the U.K. that their companies will suffer if banks in London lose full access to the bloc after Brexit.
Capital and skills are mobile and banks on the continent will step in to pick up business if London-based financial-services firms are no longer permitted to operate freely throughout the EU after the U.K. leaves, company officials and lawyers said.
"I'm not worried about that at all," said Paul Polman, chief executive officer of Unilever, whose shares are listed in the Netherlands. "I'm sure that the financial market is looking for alternatives in places like Frankfurt, or others are very well placed for that."
U.K. Chancellor of the Exchequer Philip Hammond and bankers such as Barclays Plc Chairman John McFarlane recently argued that the EU would shoot itself in the foot if it undermined London's status as a global financial hub. Given how European companies now rely on the U.K. to raise capital, British officials hoped that continental executives would lobby their own governments to safeguard the City.
Formal Talks
As London bankers press U.K. Prime Minister Theresa May to retain access to the single market, they are telling European companies that euro-zone banks aren't equipped to handle the same volume of debt and equity deals. The upshot of a Brexit settlement that cuts off the City, as London's financial district is known, will be higher costs and a smaller pool of financing, they contend.
EU executives characterized those warnings as political posturing as the two sides gear up for formal Brexit talks. The stakes are high, with the U.K. accounting for 78 percent of EU capital-markets activity, according to think tank New Financial, while financial services generate about 10 percent of British economic output.

"There are vested interests and people saying this for British interest," said Karim Hajjar, chief financial officer of Brussels-based chemicals maker Solvay SA. "Skills are easily moved. If London can't offer the platform, it can be recreated pretty quickly."
Many EU companies are already calling "game over" for the City. More than half say London will lose "passporting" rights, which let financial-services firms based in one EU country sell their services throughout the bloc, according to a Greenwich Associates report last month. Twenty-eight percent of companies on the continent said they were planning to move away from British banks, with 20 percent shifting business to global lenders, Greenwich Associates said, based on a survey of 63 companies in the U.K. and elsewhere in the EU.
Banks in London want May to strike an interim agreement to preserve passporting, which 13,500 financial firms use to do business into and out of the U.K., before the country formally starts Brexit talks. Without an interim deal, some banks have warned they'll shift operations to other EU countries.
Passporting Rights
A loss of passporting for U.K. banks could create headaches for treasurers at European companies who might have to rejigger cash-management and funding operations, but it won't threaten their access to capital, said Tobias Miarka, head of the European operations of research firm Greenwich Associates.
A treasurer at a major publicly traded continental company, who asked not to be named because he wasn't authorized to speak on the subject, said Brexit might have a marginal impact on pricing and liquidity in the corporate bond and derivative markets. But he expressed disbelief that London-based banks continue to lobby for passporting rights after the country voted to distance itself from the rest of Europe.
EU companies that want to maintain unfettered access to the City of London could always reconfigure operations and establish a treasury unit in London, said Simon Gleeson, a regulatory partner at Clifford Chance in London.
Brexit's impact may depend on a company's size. Major European companies will be able to tap capital markets with or without London, but small and medium-size companies may be hit harder, he said.
"The largest EU companies will be able to access the bond markets, come what may," Gleeson said. "The further you go down the scale, the harder life is going to be for mid-size corporates."
That's because EU companies rely heavily on lending from banks that are under regulatory pressure to increase capital and reduce loan books. Bank lending accounts for about 80 percent of corporate debt in the 27 EU countries outside the U.K., while just 20 percent comes from corporate bonds, according to New Financial.
Skills, Capital
A diminished role for U.K. banks threatens to undermine the EU's goal of encouraging companies to tap the capital markets and reduce reliance on banks.
"If the end result is a lack of access, then both the U.K. and Europe will lose," said Robert Rooney, CEO of Morgan Stanley International. "The efficiency of London as a global capital market will be very difficult for Europe to replace."
Stefan Kraus, a London-based partner at German law firm Luther, whose clients include Bayer AG, Deutsche Telekom AG and Infineon Technologies AG, said the U.K. bankers' and officials' warnings sounded hollow, given that there are no rules barring EU companies from raising money via banks outside the bloc.
"It looks a bit like wishful thinking in the search for arguments," Kraus said.
Sign up to receive the Brexit Bulletin, a daily briefing on the biggest news related to Britain's departure from the EU.
— With assistance by Simon Kennedy, and Thomas Buckley
Before it's here, it's on the Bloomberg Terminal.
LEARN MORE