Kuroda Yield Curve Control Chokes World's No. 2 Bond Market
By , , and
BOJ to anchor 10-year yield at zero, threatening liquidity

'Someone may say it's the end of capitalism,' Daiwa AM says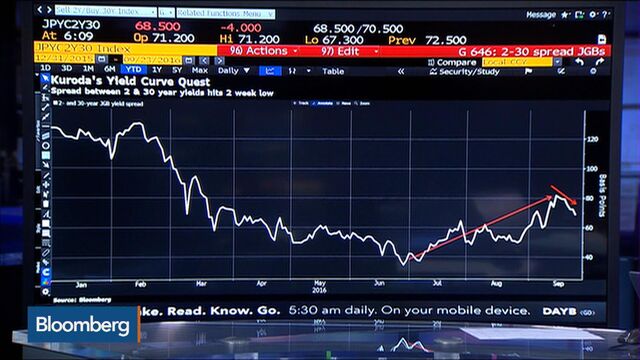 The Bank of Japan is tightening its stranglehold on the nation's fixed-income market.
It already drove borrowing costs to record lows by buying about 330 trillion yen ($3.3 trillion) of government bonds, around a third of the amount outstanding. Adding what it calls "yield curve control" to the stimulus mix looks set to freeze 10-year yields near zero. That may further squash liquidity in a market where some dealers are considering an exit.
"Someone may say it's the end of capitalism," said Tsutomu Komiya, a debt investor in Tokyo at Daiwa Asset Management, which oversees about $131 billion in assets. "It could be. The market already has been dead."

The BOJ has been at the vanguard of global central bank efforts to revive inflation and support growth by deploying extraordinary monetary policy. They've waded into financial markets, raising the risk of unintended consequences. Governor Haruhiko Kuroda acknowledged this month that low longer-term yields choke profits for lenders and hurt returns on pension and insurance investments.
Targeting interest rates may have its own drawbacks. Trading in JGBs slumped to an unprecedented 11.1 trillion in May, from an average of more than 26 trillion yen per month over the past decade, based on a calculation method provided by the central bank.
"Trying to control the entire yield-curve is too much," said Noriatsu Tanji, senior bond strategist at Mizuho Securities Co. "They could have just said they will be more flexible with their purchases. Volatility will go down, but yields will stop moving."
For a QuickTake Q&A on why the BOJ is targeting the yield curve, click here
Speculation in the run-up to the meeting that policy makers would target a steeper curve had already sent Japanese government debt toward its worst quarterly rout in 13 years, with bonds maturing in more than a decade slumping 5.3 percent since the end of June, according to Bank of America Merrill Lynch indexes.
The benchmark 10-year yield temporarily climbed above zero for the first time in six months after the BOJ said it will buy bonds to keep 10-year yields at about zero percent. Japanese markets were closed Thursday for a holiday.
Japanese 10-year bond futures contracts for December delivery traded in Singapore rose 0.1 percent to 151.66 on Thursday. They fell 0.3 percent Wednesday, the biggest decline since Aug. 2.
'Conceptually Similar'
The BOJ's move is "conceptually similar" to a central bank capping the appreciation of its currency, and may actually reduce the amount of bonds it needs to buy, Goldman Sachs Group Inc. analysts including Silvia Ardagna wrote in an investor note. "With a credible commitment, actual purchases to maintain 10-year yields around current levels may be quite low," they wrote, easing concern that the BOJ faced a "scarcity" of bonds to buy.
It may do less to allay misgivings about the size of the BOJ's balance sheet, according to John Normand, London-based head of foreign exchange, commodities and international rates research at JPMorgan Chase & Co.
"If the goal was to introduce a framework that would allay concerns that BOJ policy was reaching its limits, this package should vex market participants more than comfort them," Normand wrote in an analyst report. "The BOJ's policy of fixing 10-year rates around 0 percent obliges it to purchase whatever quantity of bonds is required to ensure rate stability."
Kuroda reiterated Wednesday he sees room to expand every aspect of the current stimulus program, including asset purchases.
The 10-year JGB yield was at minus 0.035 percent on Wednesday in Tokyo, after climbing to as high as 0.005 percent, from minus 0.065 percent Tuesday, according to Japan Bond Trading Co. It was at a record low of minus 0.3 percent in early July.