Brazil's Key Rate Likely to Fall This Year, Meirelles Says
by
Finance minister says in interview a cut is 'highly probable'

Meirelles was central bank chief under then-President Lula
Brazil's Finance Minister Henrique Meirelles said it's "highly probable" the Latin American country's benchmark interest rate will fall by year-end, which would be the first easing of monetary policy since 2012.
The central bank is focused primarily on inflation, but is also considering government efforts to contain spending, he said in an interview Wednesday in New York, where he is accompanying President Michel Temer. The administration expects Congress this year to approve one of its key austerity measures, which is a cap on public spending, according to Meirelles, who himself ran the central bank under then-President Luiz Inacio Lula da Silva.
Brazil's central bank has autonomy to set the benchmark rate, though it's not fully independent and its leader can be fired by the president. The board has kept borrowing costs unchanged at 14.25 percent for nine straight meetings, balking at pressure to cut amid the worst recession in decades. The central bank's press office declined to comment on Meirelles's remarks.
Economic conditions may be growing more favorable for monetary easing, as inflation expectations for 2017 continue to fall closer to the official target. Two-year breakeven rates -- based on the difference between nominal and inflation-linked bonds -- dropped to 5.61 percent on Wednesday, matching a three-year low. Traders in the swaps market are betting on a rate cut in October.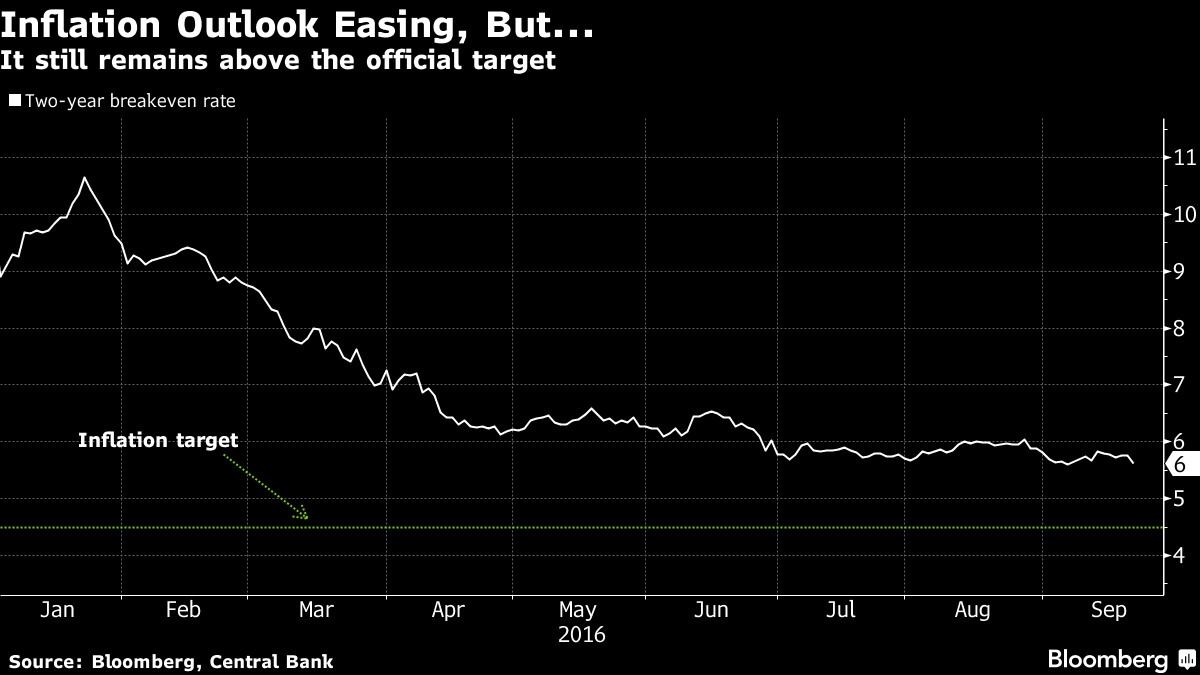 Central bank President Ilan Goldfajn on Tuesday expressed optimism that Temer can succeed in his efforts to contain spending and shore up the budget, saying during a panel discussion in Argentina that the government is "on the right track." But the economist reiterated that he's focused on bringing inflation to the official target of 4.5 percent, which is still roughly half the current rate.
Many investors say congressional approval of the government's belt tightening measures will be crucial for the central bank, which signaled in the communique published after its last decision that it's in no rush to decrease the key rate just yet.
"We need to get confirmation that Congress is working with the executive to give central bank President Goldfajn the green light to start decreasing rates," said William Landers, a portfolio manager at BlackRock Inc. "I don't think he's going to be jumping the gun until the fiscal side is really going in the right direction."
Before it's here, it's on the Bloomberg Terminal.
LEARN MORE