Kenyan Regulator Says Rate Caps Complicates Monetary Policy
Felix Njini
Central bank governor warns law may not have intended results

Kenyan banks may be wary of increased lending to risky clients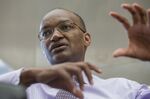 Kenya's decision to introduce caps on commercial-lending rates is complicating monetary policy, Central Bank of Kenya Governor Patrick Njoroge said.
"With the rate caps, it's not clear which way to go," Njoroge told reporters in the capital, Nairobi, on Wednesday, a day after the central bank cut its benchmark rate by 50 basis points to 10 percent. The limits on borrowing rates may result in a "perverse reaction" among banks and lead to riskier borrowers being cut off from lending, he said.
Kenyan President Uhuru Kenyatta on Aug. 24 signed a law capping banks' lending rates at 400 basis points above the central bank rate to try stimulate lending in East Africa's biggest economy. Growth in private-sector credit extension has slowed every month over the past year, to a rate of 7.2 percent in July, according to central bank data.
Capping interest rates would succeed "if it catalyzes" credit growth, Faith Atiti, a senior economist at Commercial Bank of Africa, said in an e-mailed note. "So far, banks remain wary of increasing their loan portfolio as quality of assets deteriorate," she said.
Njoroge, who initially opposed legislating interest rates despite saying earlier borrowing costs "were remarkably high", refused to speculate on the effects of the law on borrowers.
"Everything could be hunky dory, on the other hand, things may not be hunky dory," Njoroge said in an interview on Wednesday. "It is important not to assume that everything will go in a particular way."
Barclays Bank of Kenya Ltd., shares slumped 6.94 percent to trade at eight shillings by 2:44 p.m. in Nairobi, heading for its lowest level since 2005.
Before it's here, it's on the Bloomberg Terminal.
LEARN MORE