Japan Banks Jump as BOJ Keeps Rate Unchanged, Targets Yields
by and
Steeper yield curve would ease pressure on interest income

Banks 'avoided a big negative surprise,' Haitong analyst says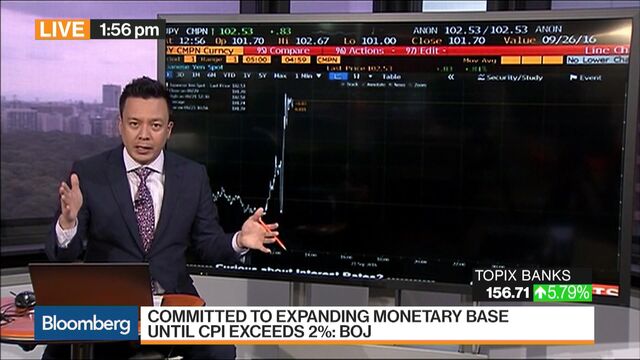 Japanese bank shares jumped after the central bank decided to target the bond yield curve and refrain from deepening negative interest rates, easing concerns that monetary policy will continue to erode their profits.
The 87-stock Topix Banks Index surged 7 percent, the most in seven months, at the close of trading in Tokyo Wednesday after falling as much as 1.6 percent before the announcement. The Bank of Japan shifted the focus of its monetary stimulus away from a rigid target for expanding the money supply, to controlling the shape of yields across different maturities.
A steeper yield curve would ease pressure on lenders' net interest margins, providing relief for banks whose shares remain among the worst performers in Japan this year after the central bank introduced negative rates to beat deflation. While Governor Haruhiko Kuroda acknowledged earlier this month that the policy has hurt banks' profits, his board said Wednesday that it can push the benchmark deposit rate below the current minus 0.1 percent if needed.
"After all is said and done, it seems more was said than done," said Michael Makdad, a banking analyst in Tokyo at Haitong International Securities Group Ltd. "We've avoided a big negative surprise for banks."

Mitsubishi UFJ Financial Group Inc., the nation's largest lender, jumped 7.4 percent, while Sumitomo Mitsui Financial Group Inc. climbed 7.3 percent and Mizuho Financial Group Inc. increased 6.8 percent. The stocks have fallen at least 20 percent this year.
The BOJ said that the monetary base target, which previously had been set at annual increases of 80 trillion yen ($780 billion), may now fluctuate in the short term. It scrapped a target for the average maturity of its government bond holdings and said it will seek to keep 10-year yields around zero.
For highlights of the BOJ's statement, click here.
Board members also pledged to expand the monetary base until inflation is stable above the 2 percent target -- committing to an overshoot of consumer-price gains.
Shares of insurers including Dai-ichi Life Insurance Co. and T&D Holdings Inc. also rose on expectations that the BOJ's yield-curve targeting will support their income from longer-dated debt. Still, the policy could backfire if higher long-term yields attract financial firms with spare cash to buy Japanese government bonds, according to Shinichi Tamura.
"It's a relief that negative interest rates weren't deepened," said Tamura, a Tokyo-based strategist at Matsui Securities Co. "Banks and insurers are hurting because of their excess cash. But if long-term rates rise, they could rush to buy JGBs, which could hamper the BOJ's ability to steepen the curve."
Before it's here, it's on the Bloomberg Terminal.
LEARN MORE