markets
IMF Reaffirms Iraq Commitment After Zebari Loses Confidence Vote
By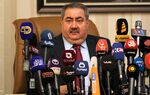 The International Monetary Fund said it remains committed to working with Iraq on implementing a $5.34 billion loan, after Finance Minister Hoshyar Zebari lost a vote of confidence in a secret parliamentary ballot.
A total of 158 lawmakers voted against Zebari in Baghdad on Wednesday, and 77 supported him while 14 abstained, deputy speaker Humam Hamoudi said in an e-mail. Zebari, who has denied all allegations of squandering public money, can appeal the vote but for the time being cannot carry out his duties.
Zebari has been leading Iraq through talks with the IMF to help OPEC's second-biggest producer repair public finances damaged by the oil price drop and war with Islamic State militants. The first review of Iraq's progress toward honoring pledges to the IMF to cut spending and reduce corruption was set to end as early as Sept. 15. Once Iraq completes the review, it will be eligible to receive a second loan installment of up to $635 million.
In an e-mailed statement after the ballot, IMF mission chief Christian Josz said the Stand-by Arrangement was approved in July, "and we are committed to working with the authorities to implement it."
According to the parliamentary speaker's office, lawmakers rejected Prime Minister Haidar Al-Abadi's request to postpone the vote until Iraq meets the loan requirements. A deputy from Zebari's Kurdish KDP party, Khisro Goran, said in a statement that the parliamentary action was politically motivated.
Iraq is now without defense, interior and finance ministers. Abadi is expected to present candidates after returning from a current visit to the U.S.
Before it's here, it's on the Bloomberg Terminal.
LEARN MORE