Iraq Without Finance, Defense Chiefs as Zebari Ousted
By
Vote risks deepening political crisis before Mosul battle

IMF says committed to working with Iraq to implement loan deal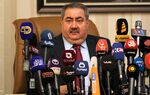 Iraqi lawmakers voted to oust Finance Minister Hoshyar Zebari amid allegations he misused public funds, a move that may deepen the country's political crisis as it prepares for a decisive battle against Islamic State militants.
Deputy Parliament Speaker Humam Hamoudi said 158 lawmakers voted against Zebari, a Kurdish politician, in Baghdad on Wednesday, while 77 supported him. Zebari, who has denied all allegations of squandering public money, can appeal but for the time being cannot carry out his duties. The vote comes less than a month after parliament dismissed defense chief Khalid Al-Obaidi, leaving Iraq without two key ministers as it fights Islamist militants and grapples with the impact of low oil prices.
Zebari's ouster will test a fragile relationship between Iraq's Kurds, who have ruled a semi-autonomous region in the north for more than two decades, and Shiite as well as Sunni Arab politicians in Baghdad. Kurdish fighters are expected to play a role in the battle to retake Mosul, Islamic State's last major stronghold in OPEC's second-largest producer. Prime Minister Haidar al-Abadi, a Shiite, predicted that the militants could be driven out of the city in the next two months, the New York Times reported this week.
Oil Dispute
In addition to the fight against Islamic State, Iraq has been struggle with political turmoil. The central government has been locked in a dispute with the Kurdistan Regional Government since 2014, when the Kurds began selling their oil independently. Abadi's attempts to install a cabinet of technocrats have been also stymied by revolts in parliament and intensifying divisions among Shiite political factions.
"When you try to marginalize one of the main blocs in the parliament like the Kurdish bloc, definitely this will negatively impact the war against" Islamic State, Serwan Abdullah Ismail, a Kurdish lawmaker, said by phone. He didn't elaborate.
But Wathiq al-Hashimi, a Baghdad-based commentator, said the political crisis "won't impact the preparations for the upcoming Mosul battle." He predicted that Kurdish leaders may also move swiftly to fill Zebari's position.
Abadi is expected to present candidates to fill cabinet posts after returning from a current visit to the U.S.
IMF Talks
Zebari has been leading Iraq through talks with the International Monetary Fund to help repair public finances battered by the war and low oil prices. The first review of Iraq's progress toward honoring pledges to the IMF to cut spending and reduce corruption was set to end this month. Once Iraq completes the review, it will be eligible to receive a second loan installment of up to $635 million.
In an e-mailed statement after the vote in parliament, IMF mission chief Christian Josz said the fund is "committed to working with the authorities to implement" the agreement.
Iraq sought the loan after the mounting costs of the war and the plunge of its oil revenue blew a gaping hole in its public finances. Iraq's dollar-denominated debt is the world's third-riskiest credit, according to data on credit default swaps compiled by Bloomberg. The contracts were little changed on Wednesday at 756 basis points.
According to the parliamentary speaker's office, lawmakers rejected Abadi's request to postpone the vote until Iraq meets the loan requirements.
Before it's here, it's on the Bloomberg Terminal.
LEARN MORE