Hanjin Gets Korean Air Funds as Court Says Revival at Risk
By
Shares surge after airline's board approves immediate funding

Court criticizes slow resolution of shipping disruptions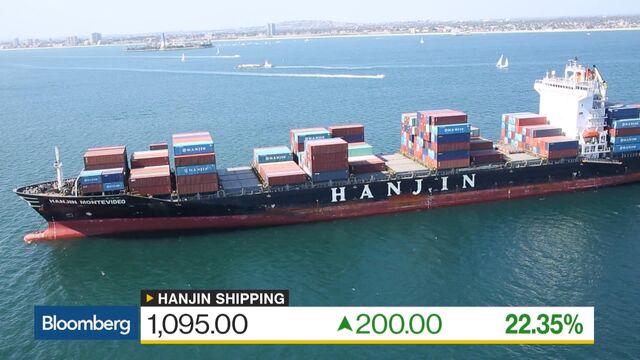 Hanjin Shipping Co., the South Korean container line that has sought bankruptcy protection, won a temporary reprieve after its largest shareholder agreed to provide 60 billion won ($54 million) in new loans. Shares surged in Seoul.
The financing will be provided immediately, and the shipping company's accounts receivable will be used as collateral, top shareholder Korean Air Lines Co. said after the carrier's board approved the funding Wednesday. The South Korean government had estimated that Hanjin needed at least 600 billion won to cover unpaid costs such as fuel and cargo handling.
Hanjin's shares jumped as much as 30 percent, rebounding from a record low, following the decision by Korean Air's board. A court overseeing the receivership application said stranded vessels of the container line are taking too long to unload cargo and that delays could make it impossible to revive the company. Hanjin's troubles have roiled the global logistics chain of companies such as Samsung Electronics Co., Nike Inc. and Hugo Boss AG.
"This will help put out the immediate fire," said Cho Byung-hee, an analyst at Kiwoom Securities Co. in Seoul. "This will help unload cargo to ease the disruptions. But what would happen after for Hanjin is another issue."

Korea Development Bank, the main lender to Hanjin, is reviewing whether creditors' support is needed to ease cargo disruption, Etoday reported, citing people it didn't identify. KDB may provide as much as 50 billion won, Yonhap News Agency reported separately.
Korean Air shares rose 6.2 percent to 34,200 won as of 10:31 a.m. in Seoul, headed for the biggest gain in three weeks. Hanjin shares traded at 1,160 won.
After the bankruptcy filing, Hanjin Shipping has slipped down the rankings of the world's major container lines. With a market share of 2.6 percent as of Sept. 21, it is now the 10th biggest, falling from the seventh position, according to shipping data provider Alphaliner.
Hanjin needs to end the supply-chain disruptions quickly, and the longer it takes to return the chartered ships, the more claims and debt will pile up, a court spokesman said Wednesday. The company sought court protection last month after its creditors stopped providing support.
Hanjin's owner agreed this month to provide 100 billion won as part of efforts to contain disruptions to the global supply chain from the company's court filing. Hanjin Group Chairman Cho Yang Ho provided 40 billion won, the group said earlier.

Shares of Hanjin Shipping tumbled to a record low Wednesday amid fading chances of survival and after Yonhap, citing the court, reported that a rehabilitation plan was "realistically impossible." Hanjin's collapse has caused "widespread disruptions in freight shipments worldwide," U.S. trade groups said in a letter Tuesday, urging the U.S. Commerce Department to work with the South Korean government to end the crisis.
The court has advised Hanjin to return all chartered vessels to cut costs as the fees amounted to about $2 million a day. The company has started reducing its fleet by returning some box and bulk carriers to their owners.
Under the law, the court's responsibility is to help find a way to revive Hanjin, and liquidation is an option that may be considered later if the court finds the company can no longer operate, the spokesman said. Of the Seoul-based liner's 97 container ships, 60 were chartered. Among its 44 bulk ships, 23 were leased as of Sept. 11.