Hammond Tells U.K. Firms He'll Push for Trade With Single Market
By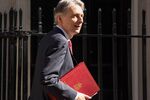 U.K. Chancellor of the Exchequer Philip Hammond told business leaders the government will ensure they will be able to continue to trade with the European Union single market after Britain leaves the bloc.
Hammond said the government will offer support to firms through any period of adjustment, after he met companies from across Britain this week. Attendees at Wednesday's meeting included Confederation of British Industry Director General Carolyn Fairbairn, British Airways Plc Chief Executive Officer Alex Cruz, and J Sainsbury Plc Chairman David Tyler.
"In our negotiations to leave the EU, we will work hard to get the best deal for Britain and that includes ensuring that British companies can continue to trade with the single market in goods and services," Hammond said in a statement. "We have an opportunity to forge a new role for ourselves in the world, to negotiate our own trade deals and be a positive and powerful force for free trade and it is crucial that government and business work together to make it happen."
Officials said last week Hammond is resigned to the idea that continued membership of the single market will not be possible if Britain wants to regain control over immigration. Wednesday's statement shows the Treasury is keen to reassure businesses that single- market access will nevertheless remain a focus in negotiations for the chancellor.