Free-Market Republicans Turn on Mylan, Say EpiPen Went Too Far
By , , and
'You asked for it,' conservative Republican tells Mylan CEO

Mylan hearing focused on price increases for allergy shot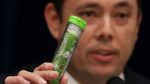 At a brutal congressional hearing in Washington Wednesday, Mylan NV didn't have any friends among Republicans who said they wished they could defend the drugmaker.
Republicans who described themselves as "free market" and "pro-business" said that the drugmaker's aggressive pricing of its EpiPen allergy shot -- the cost of which went up about sixfold since Mylan acquired it in 2007 -- had gone too far. They described themselves as upset both about the price increases as well as Chief Executive Officer Heather Bresch's $19.4 million in awarded pay.
"I am a very pro-business Republican, yet I am really sickened by what I've heard about this situation," Republican Representative John Duncan of Tennessee said at the House Committee on Oversight and Government Reform session. "Nobody can really earn or deserve" that much money, he said.
The company has become the latest in lawmakers' sights as both parties have made drug prices a focus of their oversight efforts. Most of the discussion about regulating the industry's pricing practices has been led by Democrats, including presidential candidate Hillary Clinton, who has a proposal to monitor and push back on increases.
The drugmaker certainly isn't the only business Republicans have recently taken to task. Earlier this week, Wells Fargo & Co. was called a "fraud" and "completely out of touch" by Senator Pat Toomey, the Pennsylvania Republican, after the bank's employees opened accounts without customers' permission.
'You Asked for It'
At the Mylan hearing, Representative Mick Mulvaney, a South Carolina Republican, gestured at his colleagues and said many of them had little idea about business or how the corporate world worked. But then he turned to CEO Bresch, and described the company's lobbying efforts on behalf of laws encouraging or requiring schools to keep devices like EpiPen on hand. The shots now cost about $600 for a two-pack, and the vast majority of states now require or encourage schools to stock epinephrine devices.
"You came and you asked the government to get in your business, so here we are today," Mulvaney said. "If you want to come into Washington, if you want to come into state capitals, and lobby us to make us buy your stuff, this is what you get. You get a level of scrutiny and a level of treatment that would ordinarily curl my hair, but you asked for it."
Patient Blowback
Bresch defended the drugmaker, saying that the price increases had helped it fund better patient access and that it actually collects less than half of the $600 list price.
"I wish we had better anticipated the magnitude and acceleration of the rising financial issues for a growing minority of patients" who may end up paying the full list price, said Bresch, who is the daughter of U.S. Senator Joe Manchin, a Democrat from West Virginia.
Mulvaney is a founding member of the House Freedom Caucus, an ultra-conservative group of House Republicans who often break with Speaker Paul Ryan. Committee member Blake Farenthold, a Texas Republican, is a member of Congress's Republican Study Committee, a conservative policy group -- and took Bresch to task as well.
"I think you all have behaved very badly and invited government regulation," Farenthold lectured the CEO. "I am very much for free market. But this whole drug pricing system that we have right now makes no sense to me, and a free market can't operate in a system where people like me, who are consumers, don't understand it."
Representative Jason Chaffetz, the Utah Republican who chairs the committee, said he couldn't sympathize with how Mylan was charging hundreds of dollars when the medicine inside EpiPen cost about $1.
"Trying to dive into the depths of individual drug pricing was not something I set out to initially do," Chaffetz said at the start of the hearing. As Bresch defended her company and said she was surprised by the outrage, Chaffetz asked her, "You never anticipated this? You raised the price, what did you think was going to happen?"
See also: Mylan Blasted for Raising EpiPen Prices to Get 'Filthy Rich'
Mylan is run from Canonsburg, Pennsylvania, but is officially registered in the Netherlands after a so-called tax inversion. Through Wednesday, the shares had dropped 15 percent in five weeks after lawmakers started raising questions about EpiPen. They rose 2.6 percent to $43.01 at 10:28 a.m. in New York Thursday.