Fonterra Full-Year Earnings Climb 65% as Milk Costs Decline
By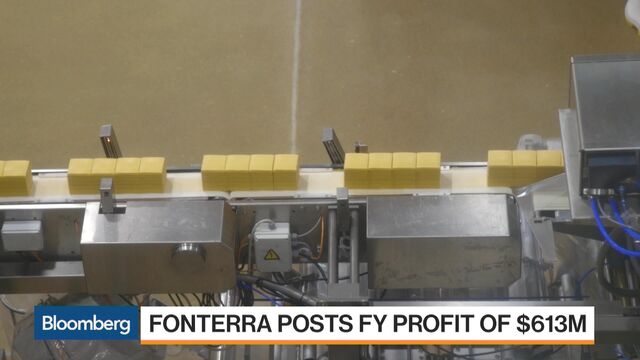 Fonterra Cooperative Group Ltd., the world's largest dairy exporter, said full-year earnings jumped 65 percent as low milk prices boosted earnings from products such as cheese and infant formula.
Net income rose to NZ$834 million ($613 million) in the year ended July 31, the Auckland-based company said Thursday. Earnings per share were 51 cents, within the projected 45-55 cent range, and the company reiterated it will pay a full-year dividend of 40 cents a share, up from 25 cents a year earlier.
Fonterra targeted increased earnings and higher dividends for its 10,500 farmer shareholders as payments for their milk fell to a nine-year low and resulted in as many as 80 percent operating at a loss last season. The company cut jobs and sold assets to improve efficiency and strengthen its balance sheet, allowing it to deliver higher dividends to help farmers through the global milk price slump.
"Our business strategy is serving us well," said Chairman John Wilson. "We are moving more milk into higher-returning consumer and food-service products."

Shares in the Fonterra Shareholders' Fund, securities that track the cooperative's earnings and dividend, were unchanged at NZ$5.93 at 10:07 a.m. in Wellington.
Fonterra today confirmed it paid its farmers NZ$3.90 a kilogram of milksolids for the 2015-16 season -- the lowest since 2007 as a global glut and weak demand curbed prices.
Milk Price
The company yesterday forecast it will pay NZ$5.25 a kilogram in 2016-17 as worldwide milk production slows and prices start to recover. It maintained a forecast that earnings will be 50-60 cents a share in the year through July 2017. New Zealand farmers need income of around NZ$5.05 a kilogram to break even, according to industry body DairyNZ.
The South Pacific nation appears to have weathered the dairy downturn well, with the booming tourism industry overtaking dairy as its biggest export earner. The economy expanded 3.6 percent in the year through June, giving New Zealand one of the highest growth rates in the developed world. A recovery in dairy prices may further bolster activity through improved export returns and rural spending.
Fonterra said full-year revenue fell 9 percent to NZ$17.2 billion. Normalized earnings before interest and tax rose 39 percent to NZ$1.4 billion.
Ingredients, Food-service
Earnings at the company's ingredients business rose 24 percent to NZ$1.2 billion as it paid less for milk and produced more high-value products. In consumer and food-service, earnings surged 42 percent to NZ$580 million while there was a NZ$59 million loss from farming operations in China.
Fonterra said free cash flow rose to NZ$2.2 billion amid better management of working capital, reduced capital spending and the sale of non-strategic assets. Working capital is being controlled by lowering inventory volumes and making improvements to supply chains, it said.
Net debt fell to 44.3 percent of assets at July 31 from 49.7 percent a year earlier, meeting the company's target of 40-45 percent.
"We have cut our operating expenses, increased our free cash flow, reduced our working capital days, driven debt down, and reduced our capex and our gearing," Chief Executive Officer Theo Spierings said in a statement. "We are single-minded about transforming our business to get the best results."
Watch Next: Fonterra CEO: Strong Results in Difficult Market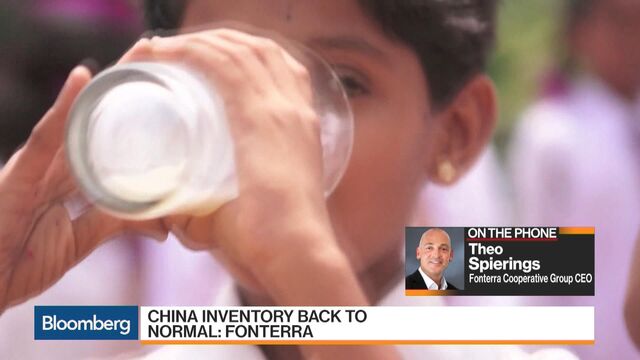 — With assistance by Emma O'Brien
Before it's here, it's on the Bloomberg Terminal.
LEARN MORE