Fed Fueling 'Obama Paper Bull' Market, Trump Adviser Says
Peter Navarro says Janet Yellen has been keeping interest rates low to help the president.
By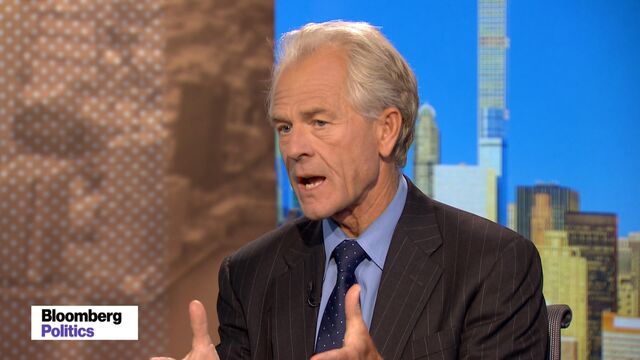 Senior Donald Trump economic adviser Peter Navarro questioned Federal Reserve Chairwoman Janet Yellen's truthfulness while defending the Republican presidential nominee's attacks on the central bank.
"What we have is a stock market that is the Obama paper bull," Navarro said in an interview Tuesday. "The Federal Reserve, in keeping interest rates low in conjunction with an Obama administration—which doesn't know how to get the economy going again—has created this false situation. And I think it's fair to say that the Fed has been playing along with it."
"And if you had an honest Fed chairman, going back to Bernanke—Bernanke would say, 'Hey, the Fed can't solve this problem.' We have to solve this problem with structural reforms like Donald Trump is proposing on trade, energy, regulations and taxes," Navarro said.
Earlier this month, Trump told CNBC that Yellen should be "ashamed of herself," and has accused her of doing a "political job" that's led to a "very false economy."
As to the specifics of Trump's tax plan, Navarro repeatedly declined to say whether the 15 percent proposed corporate income-tax rate would apply to pass-through businesses.
"It applies to small and large businesses and there will be no gaming of it," Navarro said. "Go to the website, read that. ... This is the kind of thing where we're losing the big picture here. ... It may be important, but when you score the plan—it's a small difference over a big picture."
Trump's website, however, contains few specifics on tax reform. Pass-throughs, which include partnerships, limited liability companies and sole proprietorships, don't pay taxes themselves, but pass their earnings through to their owners, who then pay tax at their individual rates. The structure is used by both small businesses, like mom-and-pop grocers, and by private-equity funds, hedge funds and real-estate funds.
The campaign website says only, "This rate is available to all businesses, both big and small, that want to retain the profits within the business." Pass-through businesses do not retain their profits.
Navarro is no fan of further regulations on banks like Wells Fargo, which has been accused of opening unauthorized accounts in order to meet sales targets. 
"I'm a business professor and this starts basically in business school teaching ethics," Navarro said. "This is just stupid behavior on Wells Fargo's part. You can't make up a regulation to cure that kind of stupidity. You really can't."
Instead, Navarro said Wells Fargo would suffer consequences for its actions in the marketplace. 
"They're going to pay a heavy price, reputationally, as they should," he said. "I have a Wells Fargo account, but that's all I want to say about it. This is a campaign and the problem that's happening in this campaign is like there's these news hooks that people go off on when in fact what people in America really want to know about is, 'Is the stock market going to go up? Is the economy going to up?'"
—With assistance from John Voskuhl.