business
EU's Vestager Sees 'Clash of Understanding' With U.S. Over Apple
By and
EU antitrust chief Margrethe Vestager comments on Bloomberg TV

U.S. officials have criticized EU over Apple back-tax order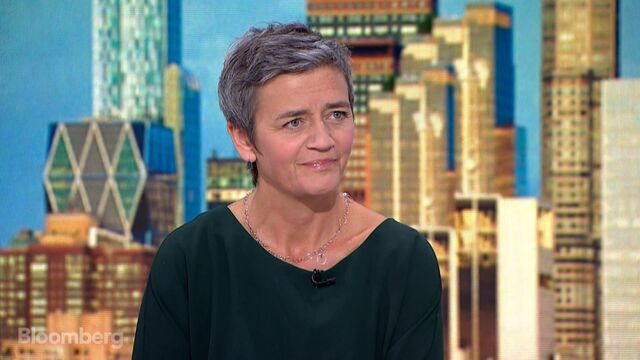 Margrethe Vestager, the European Union competition chief, said there was a "clash of understanding" with the U.S. Treasury over her order for Apple Inc. to pay as much as 13 billion euros ($14.5 billion) in back taxes.
"We will continue to disagree on this decision also because we have very very different legal traditions," Vestager told Bloomberg TV in an interview in New York on Wednesday. "I do hope we will stay on the same page" on efforts to curb global tax evasion.
The Treasury criticized the European Commission and its tax investigations ahead of the Apple ruling last month, saying the EU was making itself a "supra-national tax authority" that could threaten global tax reform efforts. 
Vestager rejected that criticism on Wednesday, saying she's merely enforcing subsidy rules that prevent one European country giving sweetheart tax deals not available to all.
The EU says Ireland granted tax rulings to Apple that reduced its effective corporate tax rate to as little as 0.005 percent in 2014.
Apple's chief executive officer Tim Cook blasted the EU order as "total political crap," in an interview with the Irish Independent. The company's chief financial officer Luca Maestri called the 0.005 percent rate "a completely made-up number."
"The size of the unpaid taxes is a reflection of the size of Apple" and its success, Vestager said. Talks with the company ahead of the decision were "frank," she said. Most contact was with Ireland, which was the focus of the state aid probe because it granted the tax rulings. Discussions with the Irish were "constructive and open" and the government was accommodating to EU investigators, she said.
Before it's here, it's on the Bloomberg Terminal.
LEARN MORE