Dollar Fluctuates as Fed Signals Ready to Hike Rates by Year-End
By and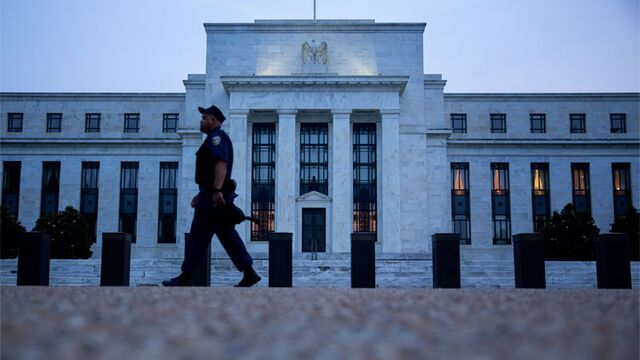 The dollar fluctuated after the Federal Reserve left its key interest-rate target unchanged while signaling that it was closer to tightening monetary policy for the first time since December.
The greenback was little changed versus its major peers after officials said they would wait for more evidence of progress toward their goals, while projecting that an increase is still likely by year-end. The tone was in line with comments Fed Chair Janet Yellen made last month in Jackson Hole, Wyoming, where she said the case for raising interest rates had strengthened in recent months.
The Fed is "clearly signaling that December is not only live, but also almost all but a certainty," Shaun Osborne, chief foreign-exchange strategist at Bank of Nova Scotia in Toronto, said before the statement.
The dollar has fallen almost 4 percent this year as Fed officials have held off from raising interest rates on concerns ranging from Brexit to lackluster global growth. In recent weeks, the greenback has whipsawed investors on mixed economic data that deflated expectations for a rate increase this month, even as comments from Fed officials kept hope for December rate hike alive. Before the meeting, traders assigned about one in five odds or a rate increase Wednesday, compared with a 59 percent chance by the end of the year, fed funds futures data show.
The Bloomberg Dollar Spot Index fell 0.2 percent as of 2:02 p.m. in New York.
Global Policy
The Fed decision comes after the Bank of Japan announced a more flexible approach to expanding stimulus Wednesday, while seeking to control bond yields across different maturities. The yen rose to the strongest level since Aug. 25 after the initial slide.
Regardless of when the Fed moves, dollar bulls face the prospect of the slowest and shallowest tightening cycle in recent history, based on the market for overnight index swaps, which reflect expectations for the fed funds effective rate. The contracts imply the rate will rise to about 0.9 percent in three years from 0.38 percent now -- essentially just two hikes during the next 36 months.
Hedge funds and other speculators are among those with the most at risk. They've been betting on dollar gains since May, and those wagers now tally about $8 billion. Bets that the dollar would rise outnumbered bearish positions by 113,195 contracts in the week ended Sept. 13, according to data from the Commodity Futures Trading Commission.