Congo Government Says 32 People Dead in Two Days of Protests
By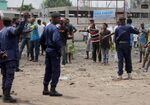 The Democratic Republic of Congo said 32 people were killed in two days of clashes between police and protesters calling for President Joseph Kabila to step down. Opposition parties claimed as many as 50 deaths.
Normal activity resumed in the capital, Kinshasa, on Wednesday, police spokesman Mwana Mputu told reporters, calling on residents to return to work. He said 114 people have been arrested and urged the population to "denounce" anyone involved in the violence and the destruction of public buildings.
The country had been scheduled to hold presidential elections in November, but they're being delayed because of a registration process that the opposition says is a ploy by Kabila to extend his 15-year rule.
Congo, Africa's biggest copper producer and a source of other key minerals including cobalt and tantalum, has never had a peaceful transition of power. Kabila, who has served two elected terms, is barred by the constitution from seeking a third term.
Before it's here, it's on the Bloomberg Terminal.
LEARN MORE