China's Li Confident in U.S. Ties No Matter Who Wins Vote
by and
Chinese premier addresses business leaders in New York

Sees positive ties despite campaign's anti-China rhetoric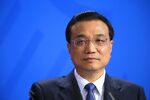 China's Premier Li Keqiang said in New York that he was confident that ties with the U.S. would remain positive regardless of which candidate wins November's presidential election.
 
"No matter who gets elected, I believe China-U.S. ties will grow steadily and in a positive direction," Li told the Economic Club of New York while in town for the United Nations General Assembly. He didn't elaborate, saying that the election was an internal affair for the U.S.
Surveys show Republican Donald Trump and Democrat Hillary Clinton running neck-and-neck in the U.S. presidential campaign, with each garnering 42 percent in a CBS News survey of 13 swing states conducted last week. Clinton held a two-point lead as recently as two weeks ago.
Clinton has vowed to "stand up" to China should it break trade rules. Trump has threatened to slap a 45 percent tariffs on Chinese goods, promised to label the country a currency manipulator and "reclaim millions of American jobs and revive American manufacturing by putting an end to China's illegal export subsidies."
Li said China intends to be a constructive player in international relations, and needs a mutually beneficial relationship with the U.S. He added that there were no grounds for concern that China would devalue its currency to boost exports.
The International Monetary Fund said in August that China's currency "remains broadly in line with fundamentals." China's economy is forecast to expand at the slowest pace in more than a quarter century.
Li said there were many reasons for the slowdown and that the government was restructuring the economy to sustain growth and encourage entrepreneurs.
Earlier on Tuesday, Li attended an event at the Waldorf Astoria Hotel with guests that included International Business Machines Corp. Chief Executive Officer Ginni Rometty, Blackstone Group LP's Stephen Schwarzman, former U.S. Secretary of State Henry Kissinger and former U.S. Treasury Secretary Hank Paulson. The meeting was led by Michael Bloomberg, the founder and majority owner of Bloomberg LP, the parent company of Bloomberg News.
Before it's here, it's on the Bloomberg Terminal.
LEARN MORE