Celebrate America's Beauty at Seven National Parks
The National Park Service just turned 100.
By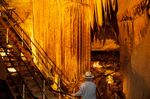 For the X Gamer
Great Sand Dunes National Park and Preserve
Colorado
Set against the Rocky Mountains and surrounded by grasslands, wetlands, and forests, the otherworldly Great Sand Dunes are the tallest in North America, rising to 750 feet. Rent a sand sled at Great Sand Dunes Oasis ($20 per day; alamosa.org), climb to the top, take in the view—and then zoom down. When you reach the bottom, cool off in Medano Creek.

Stay here: Adjacent to the park's southern border, the Zapata Ranch is a rustic but luxe resort and spa on a working 103,000-acre bison and cattle ranch. Starting at $460 per person, per night, all-inclusive; zranch.org
For the history buff
Mesa Verde National Park
Colorado
This park, a Unesco World Heritage site, turns 110 this year (the government established it a decade before the National Park Service was formed). It provides a glimpse into the life of the ancient Pueblo people, who lived in the area for more than 700 years. Mesa Verde is the largest archaeological preserve in the country, with about 5,000 sites, including cliff dwellings and villages built into the mesa walls. Book a 90-minute twilight photography tour ($20; recreation.gov) of Cliff Palace, the largest dwelling.

Stay here: Set 15 miles inside Mesa Verde, Far View Lodge has a breezy-casual Southwestern vibe and panoramic views into three other states: Arizona, New Mexico, and Utah. Starting at $130 per night; visitmesaverde.com
For the adventurer
National Park of American Samoa
American Samoa
With 13,500 acres—4,000 of which are marine ecosystem—across three volcanic islands in the South Pacific, the park aims to preserve the Samoan culture, Polynesia's oldest. Start at Vatia Village near the capital, Pago Pago. (Flights from Honolulu on Hawaiian Airlines take roughly six hours and run about $950; hawaiianairlines.com.) From there, hike the Mt. Alava trail among fruit bats and birds. Take a rest at the halfway point, a coconut and banana plantation, then head to the summit for a sweeping view of Tutuila Island.

Stay here: The only U.S. national park in the Southern Hemisphere, it's also the only one that offers a homestay program, where visitors can bunk with locals. Sleep in a fale, a traditional thatch-domed house, and learn how to pole or net fish, harvest coconuts, and weave tree leaves into decorative mats. Starting at $50 per night; nps.gov/npsa/learn/historyculture/homestay.htm
For the spelunker
Mammoth Cave National Park
Kentucky
About 90 miles south of Louisville is the longest cave system known in the world: Almost 400 miles of it have been mapped so far. Book a guided Wild Cave spelunking tour ($55; recreation.gov) of the Unesco World Heritage site to climb and crawl through limestone formations that shape a labyrinth of spooky caverns.
Stay here: Retro-kitschy Wigwam Village Inn #2 has 15 painted concrete teepees, arranged in a semicircle, with hickory beds and cane furniture from the 1930s. Starting at $45 per night; wigwamvillage.com
For the island hopper
Channel Islands National Park
California
Hop a catamaran ($59 per person; islandpackers.com) and cross the Santa Barbara Channel to these five isolated islands that stretch off the coast from Los Angeles north to Santa Barbara. Despite the mainland's proximity to the islands (the closest to shore is about an hour away), this 250,000-acre park is visited less often than the other three islands in the archipelago. Pack a picnic lunch to enjoy in Santa Cruz Island's secluded Scorpion Anchorage cove, or book a three-hour sea kayak tour with Channel Island Outfitters ($144, including lunch; channelislandso.com) to cruise by beaches, explore caves, and snorkel through kelp forests in the marine reserve.

Stay here: Back in Santa Barbara, the hilltop Belmond El Encanto has been a Hollywood favorite since the 1920s. Recently it went through a seven-year renovation that restored the original Craftsman-style and Colonial bungalows and added an infinity pool and spa. Starting at $725 per night; belmond.com
For the stargazer
Great Basin National Park
Nevada
Near the Utah border and far from any light pollution, this spot is popular with amateur astronomers. On a clear night, you can see thousands of stars in the Milky Way and Andromeda galaxies with the naked eye. Late September into early October is the best time to view Andromeda; it's also when the aspen trees are ablaze with color and visitors can gather pinyon pine nuts to take home.

Stay here: Just outside the eastern boundary of the park is Hidden Canyon Retreat, a modern-rustic property with a stream running through it and frequent deer, wild turkey, and golden eagle sightings. Starting at $134 per night; hiddencanyonretreat.com
For the equine enthusiast
Assateague Island National Seashore
Maryland and Virginia
Assateague, about 10 miles south of Ocean City, Md., is open year-round. Almost 40 miles of Atlantic coastline offer wide beaches, plus salt marshes and maritime forest. Relax on the sand while wild horses stroll through waves or feed on grass. (No riding!) You'll also encounter red foxes, deer, and birds such as egrets.

Stay here: Get back to humanity at the elegant Atlantic Hotel, a 120-year-old B&B in a grand Victorian building. Starting at $125 per night; atlantichotel.com
Before it's here, it's on the Bloomberg Terminal.
LEARN MORE