Buffett Says He'll Wait Until November to Comment on Wells Fargo
By and
Remarks now would lead down 'too many paths,' Buffett says

Berkshire speaks with Fox Business about reluctance to comment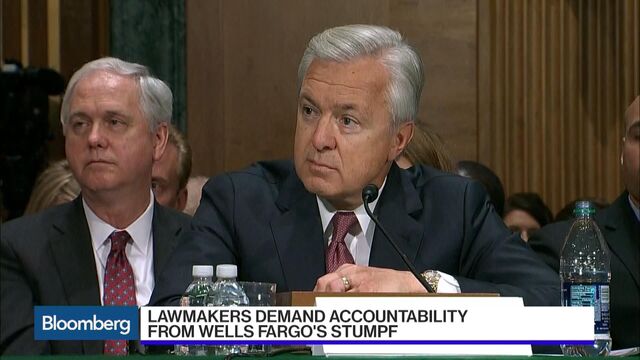 Warren Buffett, the biggest investor in Wells Fargo & Co., said it'll be more than a month before he publicly discusses the bank's phantom-account scandal.
"If I start commenting on that or anything else, it will lead down too many paths so I will wait until November to speak about it, the election or any other subject," Buffett told the Fox Business Network, according to an article on its website.
Wells Fargo is a sensitive topic for the billionaire, who controls a 10 percent stake in the San Francisco-based lender and is seeking Federal Reserve approval to increase the holding. Lawmakers from both major political parties faulted John Stumpf, the chief executive officer of the bank, at a Congressional hearing Tuesday into the practice of opening deposit and credit-card accounts without customers' authorization. Senator Elizabeth Warren, a Democrat from Massachusetts, called for his resignation.
Buffett's silence on Wells Fargo contrasts with his support of executives including Goldman Sachs Group Inc.'s Lloyd Blankfein and JPMorgan Chase & Co.'s Jamie Dimon when their companies drew regulatory scrutiny.
Buffett, the billionaire chairman of Berkshire Hathaway Inc., is backing the presidential candidacy of Hillary Clinton, a Democrat who wrote in a letter to the bank's customers that she was "deeply disturbed" by Wells Fargo's conduct. The election is scheduled for Nov. 8. Buffett didn't return a call Wednesday seeking elaboration on his remarks to Fox.
Watch Next: Warren Buffett on What He Tells Berkshire Managers