BOJ Vow to Anchor Yields Seen Boosting Appeal of U.S. Bonds
By
Flow into Treasuries, U.S. corporate notes to advance: Yoshino

Japanese investors can make very little returns in yen: SMBC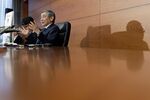 The Bank of Japan's vow to anchor the 10-year government bond yield near zero is fueling speculation that the nation's investors will put more money into U.S. dollar assets as they chase higher returns.
After the benchmark yield briefly turned positive for the first time in six months after the BOJ decision, it dropped back to minus 0.035 percent later in the day. The central bank also strengthened its forward guidance by pledging to continue expanding the monetary base until inflation is stable above the 2 percent target. Attention now turns to the Federal Reserve's interest-rate decision later Wednesday.
"The hunt for yield is likely to continue," said Takehito Yoshino, the chief fund manager at Mizuho Trust & Banking Co. in Tokyo. "The flow of funds into U.S. Treasuries and U.S. corporate bonds will advance."
The BOJ also scrapped a target for the average maturity of its government bond holdings Wednesday, as it sought greater flexibility to manage the side effects of its stimulus program. Governor Haruhiko Kuroda and the policy board kept the interest rate on a share of bank reserves unchanged at minus 0.1 percent.
U.S. corporate bonds have returned about 8.4 percent in 2016, compared with 4.8 percent on U.S. Treasuries and 1 percent on Japanese corporate bonds, Bank of America Merrill Lynch Index data showed as of Tuesday.
Looking Abroad
While costs for Japanese investors to fund dollars and hedge against currency swings have increased, the lack of yield at home could still make overseas investments attractive, according to Takayuki Atake, head of credit research in Tokyo at SMBC Nikko Securities Inc.
"If Japanese investors put their money into yen bonds, it is very difficult for them to make any return," Atake said after the BOJ meeting. "Japanese investors didn't buy a lot of U.S. corporate bonds before but now some Japanese life insurers are buyers, and we could see some more allocations there."
The yield on Japan's 40-year bond was 0.585 percent after the BOJ's announcement, down from 0.635 percent at the end of last week. That is up from a record low of 0.045 percent in July. The U.S. currency was little changed at 101.72 yen as of 5:15 p.m. in Tokyo.
"We're likely to see an acceleration in dollar bond purchases, especially in U.S. corporate bond purchases," said Tadashi Matsukawa, the Tokyo-based head of fixed-income investment at PineBridge Investments Japan. "With 10-year JGBs at zero, they're not attractive."