BOJ, Fed Seen Giving Investors More Reason to Buy Corporate Debt
By and
With central banks keeping rates low, investors chase yield

U.S. corporate bonds have returned more than 8% this year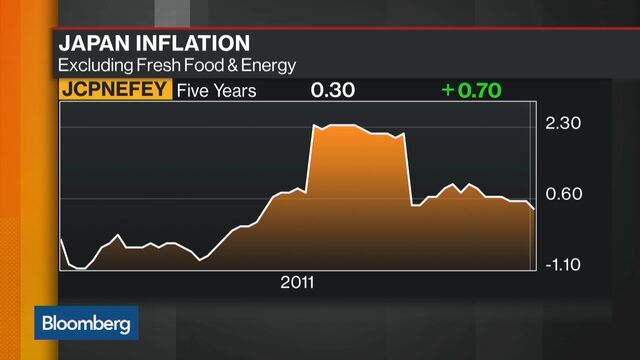 The case for buying U.S. corporate bonds is growing stronger for some investors after central bankers signaled that the era of low yields is not ending anytime soon.  
The Bank of Japan said on Wednesday it was going to freeze the 10-year government bond yield near zero, while keeping short-term rates negative, giving the nation's investors more incentive to seek higher returns on debt in the U.S. The Federal Reserve scaled back expectations for rate rises next year and over the longer run, which also gives fund managers reason to buy company bonds that offer better yields now.
The upshot is likely to be more overseas investors pouring money into the U.S. corporate bond market, money managers at firms from Prudential Financial Inc. to Mizuho Trust & Banking Co. said on Wednesday, even as corporate credit quality shows some signs of weakening. In anticipation of that demand, the cost of protecting a basket of investment-grade credits against default in the derivatives market fell the most on Wednesday since July, and the bonds could keep performing better than Treasuries.
"With the BOJ's and the Fed's decisions today, we expect demand for corporate bonds from foreign investors to get stronger," said Tim Warrick, portfolio manager and head of credit trading at Principal Global Investors. "Investor demand is the overwhelming factor in corporate bonds now." Principal Global Investors managed about $400 billion of assets as of the end of June. 
Rising Demand
Foreign demand has been rising in recent years as central banks in Japan and Europe have helped push yields below zero on more than $10 trillion of bonds. Overseas investors added about $146 billion of U.S. corporate bonds to their holdings in the 12 months ended in July, compared with just $18.4 billion in 2014, according to the most recently available data from the U.S. Treasury. That purchasing helped U.S. investment-grade corporate bonds return 8.4 percent this year through Tuesday, according to the Bloomberg Barclays U.S. Corporate Bond index, including both price gains and interest payments.

The Fed released data on Wednesday that suggests it will look to raise rates once before the end of the year. That might goad companies into selling bonds in the coming months, before borrowing costs potentially rise, said Bryce Doty, senior vice president at Sit Investment Associates, who manages $7 billion in taxable bonds. Investment-grade corporate bond sales have topped $1 trillion this year, and are on track for a record.
"It's now or never for corporates. You'd better borrow now," Doty said.

After the Bank of Japan made its statement on Wednesday, the 10-year Japanese Government Bond yield was around 0.55 percent. Central banks decisions to keep rates low globally will continue to fuel demand for company bonds and asset-backed securities, Prudential's Michael Collins said on Bloomberg TV.
"I think lower for longer means the reach for yield continues," he said.