Bank of Japan's Inflation Overshoot Deepens Policy Innovation
By and
Targeting yield curve for reflation breaks new ground

BOJ move seen aimed at assuring sustainability of easing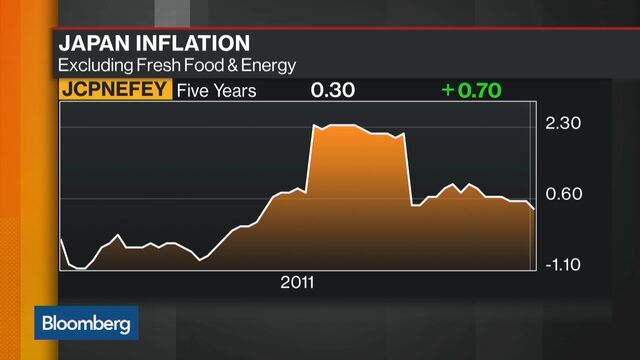 The first major central bank to adopt quantitative easing in the modern era has innovated again.
BOJ Governor Haruhiko Kuroda and his colleagues adopted a pledge of "overshooting" their 2 percent inflation target, an idea floated by central bankers including Federal Reserve Bank of Chicago President Charles Evans, but not formally adopted up to now. They also unveiled a strategy of targeting short- and longer-term rates to provide the economy with cheap borrowing costs.
Since taking the helm in 2013, Kuroda had previously pursued a QE-on-steroids policy to shock Japan out of deflation. Yet after three and a half years, he was running into increasing concerns about the sustainability of the purchases of government bonds, which have run at about 15 percent of gross domestic product annually. The adoption of a negative interest rate on some bank reserves resulted in an outcry from banks, and -- for a time -- an alarming plunge in yields even on longer-dated securities.
The Federal Reserve had a cap on long-term yields back in the 1940s, as part of the U.S. government's efforts to keep down wartime and postwar debt financing. But a strategy of targeting the yield curve as a reflation initiative is new to the major central banks of today.
"The BOJ had to do something revolutionary out of necessity -- they are concerned about sustainability," said Yuji Shimanaka, chief economist at Mitsubishi UFJ Morgan Stanley Securities Co. in Tokyo.  
Deep-Seated Challenges
The need for yet another overhaul of the BOJ's policy framework -- this is the third iteration under Kuroda alone -- speaks to the deep-seated challenges facing policy makers. A benchmark gauge of Japan's consumer prices slumped 0.5 percent in July from a year before, far from the 2 percent gains targeted "at the earliest possible time." GDP has fluctuated between rises and falls in recent quarters.
Kuroda is now counting on strengthened forward guidance, and a cap on borrowing costs, to do the trick. One difficulty will be rebutting a narrative that the yield-curve strategy is a smoke screen for paring bond purchases. The governor told reporters in Tokyo Wednesday that the new framework didn't amount to tapering money expansion, and noted that the bank will stick with a bond-purchase target of 80 trillion yen ($788 billion) a year for now. Yet he didn't rule out the chance of a slower pace in the future.
"I think that's a bad sign," Shimanaka said. "It's too early to be careful about an expansionary policy with inflation far off from its target."
Pros and Cons
Kuroda and Deputy Governor Hiroshi Nakaso earlier this month highlighted some of the positive effects of lower long-term borrowing costs, with some companies stepping up bond issuance. Borrowers can now be assured of long-term, risk-free rates at zero percent -- the BOJ's target for 10-year government bond yields.
Kuroda and Nakaso had also flagged the negative aspects of excessively low yields at the long end, with insurers and pension funds hit by lower returns. Avoiding a cap on ultra-long maturities, such as 20-year bonds, allows positive yields at the furthest end.
"What pushed the BOJ to take this new action is that they don't want to end negative rates -- they think negative rates have positive effects and they just want to fix the side effects of the flat yield curve," said Mari Iwashita, chief market economist at SMBC Friend Securities Co. in Tokyo.
Even with lower borrowing costs, the BOJ can't force Japanese companies to invest or boost wages for their employees with the new strategy. That truth also hampered Kuroda's predecessor, Masaaki Shirakawa, who often highlighted the need for executives and the government to step up in the battle to reflate the economy. The latest quarterly figures showed a drop in business investment.
Inflation Expectations
Another challenge is stoking inflation expectations among companies and households through messaging. The BOJ's new pledge to keep easing in place until after the 2 percent inflation target is reached didn't meet with universal acclaim.
"Without any sign of inflation reaching the target, I don't know how this could help to raise inflation expectations," said Hiroshi Ugai, senior economist at JPMorgan Chase & Co. and a former BOJ official. "The bottom line is we already knew that the BOJ must continue easing for a very long time."
The BOJ may ease as soon as the end of its next policy meeting on Nov. 1. Barclays economists said in a report late Wednesday in Tokyo that they now expect the central bank to cut the negative rate to minus 0.3 percent in November.
It's a far cry from the transformation in policy approach that Kuroda intended when he took the helm, ending a strategy of incremental easing. One parallel with Shirakawa that unsettles Shimanaka at Mitsubishi UFJ: the BOJ is now comparing the scale of its actions to others'.
In Wednesday's policy statement, the central bank said the size of Japan's monetary base is about 80 percent of GDP, versus 20 percent in U.S. and euro area. In just over a year, it will be 100 percent.
Before it's here, it's on the Bloomberg Terminal.
LEARN MORE