Are You Successful?
This week on Game Plan, we talk career anxieties with comedian Chris Gethard
by and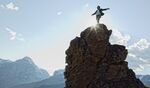 You spend more time at your job than anywhere else. Hosts Rebecca Greenfield and Sam Grobart take a close look at the way we live our lives at work—our frustrations, dilemmas, habits, and anything else that happens in the office.
Listening to this show will not help you make a million dollars or retire early. We don't have 10 easy tricks for how to climb the corporate ladder. Instead, it will probably make you question your career aspirations. Doesn't that sound fun? 
This week, Sam and Rebecca get angsty and talk about what success means to them. Is it money? Fame? Happiness? To do some good in this world? 
It's a complicated question into which this week's guest, Chris Gethard gives us some insight. Gethard, an actor, comedian, and writer, whom you may recognize from his roles on Broad City and The Office has made a career out of failing. As friends and fellow comedians moved to Los Angeles to find success, Gethard stayed in New York to work on a public access TV show and remain relatively unknown. Decades later, he is finally finding success on his own terms. Gethard starred in this summer's critical darling, Don't Think Twice and has a new show opening off-Broadway this October. 

Gethard has mixed feelings on success. As he puts it, "success, oftentimes, is a headache that brings pressures with it." 


Before it's here, it's on the Bloomberg Terminal.
LEARN MORE