Abe Tells New York Investors He'll Reform Japan's Labor Market
by and
Speech comes hours after BOJ adopts new policy framework

Japanese premier pledges to introduce 'Stewardship Code'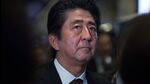 Japanese Prime Minister Shinzo Abe pledged Wednesday to overhaul the labor market in the world's third-largest economy to lift wages and productivity.
Hours after the Bank of Japan adopted a new policy framework focused on controlling interest rates, Abe talked up the country's economic prospects to investors and spotlighted his upcoming labor market reforms.
"The crux of the matter is to give workers better prospects for the future," Abe said in a speech in New York. "We must increase the labor-force participation rate. We must increase wages. We must increase labor productivity."
Abe said his government would propose new legislation aimed at lifting the pay of temporary workers to bring it into line with those in full-time regular positions. The Japanese premier said he'd set up a group of experts to consider other reforms in the labor market.
Even with record company profits in recent years, wage growth in Japan has been stagnant, undercutting consumption and economic expansion. With consumer prices falling again even after more than three years of massive monetary stimulus, more analysts are calling for the government to boost pay.
Corporate Governance
In his speech, Abe said Japan would introduce a "stewardship code" next year to ensure institutional investors are responsible overseers of the money they manage.
"Each institutional investor will be asked to set up safeguard measures, including a third party committee ensuring investment decisions are being made always to maximize" the benefit of the people whose money they manage, Abe said at the Reuters Newsmaker event.
Abe was speaking alongside activist investor Dan Loeb, founder of New York-based Third Point LLC. The billionaire hedge fund manager's aggressive stance recently helped prompt the owners of Seven & i Holdings Co., a company that runs one of Japan's biggest convenience store chains, to appoint his pick as president.
'Full Confidence'
Earlier Wednesday in Tokyo, the BOJ shifted the focus of its monetary stimulus from expanding money supply to controlling interest rates, which some economists deemed as further evidence that central bank policy had reached the limits of its effectiveness.
In a question-and-answer session after his speech, Abe said he had "full confidence" in Governor Haruhiko Kuroda, adding that his government would work "in unison" with the BOJ to aid the country's economy and break it free of deflation.
Before it's here, it's on the Bloomberg Terminal.
LEARN MORE