Yellen Must Brace for More Political Attacks If Hike Is Delayed
By
Most economists see a rate increase following the election

Trump says the Fed 'is being totally controlled politically'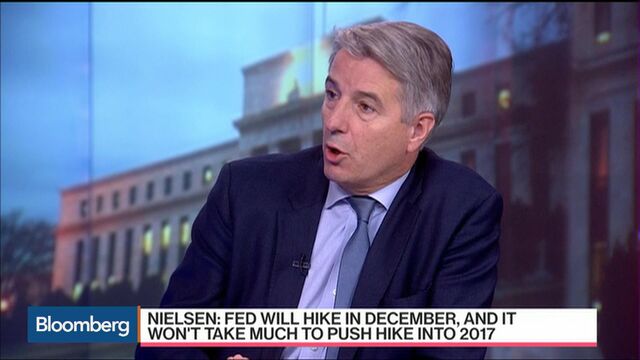 Janet Yellen will frame a decision this week to forgo an interest-rate increase as necessary to achieve the Federal Reserve's economic goals. Donald Trump and his supporters are likely to frame it as political.
That's because the central bank on Wednesday will also release fresh "dot plot" projections which will probably show policy makers see one quarter-point rate hike by the end of the year. Such a forecast would be widely interpreted as a sign that a hike is coming at the Fed's December meeting, instead of at the November gathering, which comes a week before the U.S. presidential election and isn't accompanied by one of the chair's quarterly press conferences.
Problem is, having the dot plot signal a December move comes with political baggage. Trump, the Republican presidential nominee, argues that the Fed has created a "false economy" by keeping borrowing costs low in order to help President Barack Obama. Although economists generally have said recent cooler economic data will encourage the Fed to leave rates near rock-bottom, some people may see electoral politics staying Yellen's hand.
Recapture the Narrative
"If you're a dyed-in-the-wool Trump supporter, and Trump loses in November and the Fed increases interest rates, logical fallacies aside, you will simply say -- correlation, therefore causation," said Peter Conti-Brown, a Fed historian and assistant professor at the Wharton School of the University of Pennsylvania. "What Donald Trump is trying to do is recapture the economic narrative."
Yellen was appointed by Obama and served as President Bill Clinton's top economic adviser in the 1990s.
The Fed is expected to leave rates unchanged this week. At her post-meeting press conference, Yellen may try to stress that the next Fed gathering in November is a "live meeting" where the central bank could raise rates. The Federal Open Market Committee could even potentially go so far as to explicitly signal in its statement that an increase is likely at the Nov. 1-2 gathering.
Decision Politics
Fed officials regularly say politics are not a consideration as they make monetary policy decisions, and people who have been in the room at FOMC meetings say that elections are just not a topic during the policy debate.
"It's amazing how little anyone talks about these things in these meetings -- it may have been on their minds, but I never heard anyone talk about it," said Joseph Gagnon, a senior fellow at the Peterson Institute for International Economics in Washington and a former senior economist at the Fed.
Even so, perceptions that the Fed plays politics exist, as Trump's comments suggest.
"The Fed is being totally controlled politically, they're not raising rates, and they're being controlled politically -- I think they're going to be low, I don't even know if they're going to have a raise, but I think they're going to be low until the end of the year," Trump told an audience of finance leaders in New York last week.
It may not matter very much, practically speaking, if some Americans believe Trump's assertion that the Fed is political. The central bank isn't a popularly elected body, which shields it from near-term disapproval from the U.S. electorate.
Still, it is accountable to Congress, so if a large chunk of U.S. public opinion comes to view it as a politicized institution, there could be longer-term implications.

A Trump triumph on Nov. 8 could breathe life into legislative reform of the Fed, especially if Republicans maintain control of Congress.
Emergency Measures
Sapping public support for the central bank may also make it hesitant to use unconventional policies during the next recession. The Fed's emergency measures during the 2008-2009 financial crisis later drew heat from Congress -- spurring legislative proposals to make it follow a policy rule -- and that memory could affect FOMC thinking next time around.
"If the Fed is under constant political assault, it will be more hesitant to use those tools," Conti-Brown said. "If we've got a central bank that's experimenting, then it risks prompting that exact existential debate that it wants to avoid."
Democratic presidential nominee Hillary Clinton, whose lead in national opinion polls has narrowed, has said the Fed needs to work on its diversity, but has also blasted Trump for accusing the central bank of being political. "You should not be commenting on Fed actions when you are either running for president or you are president," she said Sept. 6.
Recent economic data have been less supportive of a rate change. Disappointing readings from the Institute for Supply Management's services and manufacturing indexes, a steeper-than-expected decline in August industrial production, and slower retail sales have all called a September hike into question.
"You have elections, the Fed is certainly aware of that, but I think it's easy to say that the data that we have now do not justify a rate increase," said Gus Faucher, vice president at PNC Financial Services Group Inc. in Pittsburgh. "I do think that the data between now and December will be supportive of a rate hike."
Economists saw a 15 percent chance of a move at the meeting this week, compared with 54 percent in December, according to a Bloomberg survey.
"They want to not only be politically independent, but to be perceived to be politically independent," said Michael Feroli, chief U.S. economist at JPMorgan Chase & Co. in New York. While market participants will recognize that the data have pointed to a hold, he said some people may see waiting as political. "People will believe what they will believe."
Watch Next: Weighing the Risks of a Trump Election Victory