Vietnam Set to Delay Vote on TPP Pact as U.S. Election Nears
By and
Members of TPP agreement watching for U.S. election impact

Congress potentially has small window to ratify trade deal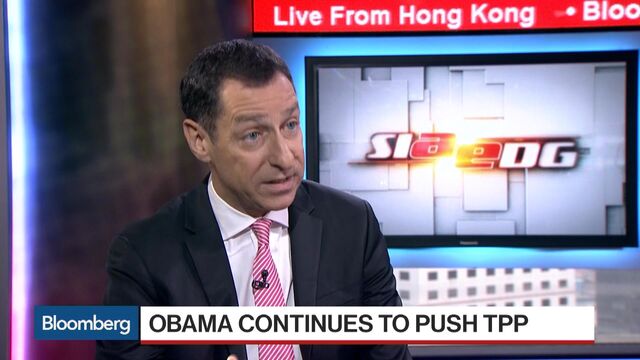 Vietnam is set to delay ratifying a massive U.S.-led Pacific trade pact until next year, as anxiety rises over the fate of the deal in Congress with America's presidential election campaign exacerbating an anti-free trade mood.
Ha Ngoc Chien, head of a parliamentary committee, suggested the National Assembly hold off on a vote on the 12-nation deal during the next session starting Oct. 20, "because many countries in the world haven't approved it so we shouldn't take the lead," according to the National Assembly website. The deal is not currently on the agenda for parliament's fall agenda.
Some Southeast Asian nations have expressed concern about the outlook for the Trans-Pacific Partnership given the populist mood in the U.S. ahead of the election in November and a brief window for Congress to pass the deal before the new president takes office. Vietnam, while fully supportive of the deal, usually operates cautiously on the global stage.
"This is typical of the Vietnamese," said Vu Tu Thanh, chief Vietnam representative of the U.S.-Asean Business Council. "They don't want to stick their head out for anything unless it is completely safe." Economists have said Vietnam's emerging economy would be one of the biggest beneficiaries among TPP nations from its ratification and implementation.
U.S. Credibility
Singapore's Prime Minister Lee Hsien Loong said during a U.S. visit last month that U.S. credibility was on the line over the pact. Australian Prime Minister Malcolm Turnbull said in New York this week the TPP is a "critically important political statement, as well as being a free trade agreement."
"If the TPP is not ratified in the lame duck period, then there is a general view in Washington that there is less chance of it being ratified afterwards," Turnbull told reporters. "But we will continue to push, press, for ratification."
Australia has not specified when it will put the TPP before its own parliament, though Japan's ruling party has indicated it plans to pass it in a parliamentary session starting next week. Malaysia's trade minister Mustapa Mohamed said in May the country is drafting amendments to comply with TPP commitments that will be presented to parliament by the first half of 2017.
Excluding China
The deal would represent nearly 40 percent of global economic output worth $30 trillion. It doesn't currently include China, which is pushing a 16-country pact that aims to unify a market of more than 3 billion people and is seen as a counterweight to TPP.
The TPP has been a centerpiece of U.S. President Barack Obama's economic and military rebalancing to Asia. The World Bank estimates the pact could raise gross domestic product by an average 1.1 percent in member countries by 2030.
The agreement goes beyond typical trade deals that mostly focus on reducing tariffs and highlights stricter safeguards for patents and a more level playing field for companies that compete with government-backed businesses.
Obama last week ramped up his campaign to persuade Congress to pass the TPP. He invited a bipartisan group of politicians and business leaders to the White House for an Oval Office meeting on the deal, which congressional leaders say is unlikely to get a vote this year.
Republican presidential nominee Donald Trump has vowed to scrap it altogether if he's elected, and Democratic nominee Hillary Clinton -- pushed to the left on the accord during her primary campaign -- has said she would at least seek to renegotiate it.
'Over the Line'
New Zealand Prime Minister John Key, in New York for the United Nations General Assembly this week, told the Council on Foreign Relations there is no prospect of the pact being renegotiated and urged the U.S. to get the deal "over the line."
"The region will not wait for you," he said. "Asian countries are determined to grow and they realize to grow they need to remove trade barriers. This will happen with or without the United States."
Global Free Trade
In a speech in New York on Monday, Japanese Prime Minister Shinzo Abe said his country would spare no effort to get TPP through, "and we count on the U.S. to do the same."
"Success or failure will sway the direction of the global free trade system, and the strategic environment in the Asia-Pacific," Abe said.
Still, the rescheduling of Vietnam's National Assembly vote on TPP wouldn't necessarily be cause for alarm, said Tran Viet Thai, deputy director general of the Diplomatic Academy of Vietnam in Hanoi.
"There is not a political force driving this," he said. "It has been de facto approved. This is just the last step of the approving process. Other things are of a higher priority on the list. Vietnam is fully committed to TPP. TPP is key in our external economic relationships."
Before it's here, it's on the Bloomberg Terminal.
LEARN MORE