U.S. ELECTION WRAP: What Clinton May Gain Attacking Wells Fargo
Tough talk against Wall Street is a hallmark of Democratic campaigns this year. It also polls well.
By and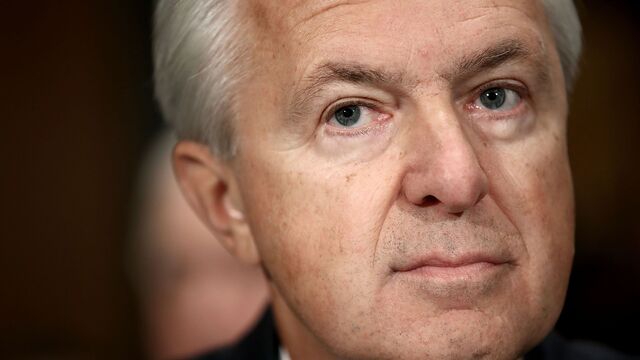 Democrats haven't been shy about going after Wall Street, banks and their executives in the 2016 campaign.
In Wells Fargo, Hillary Clinton's campaign has found a vehicle to do that once more, with gusto. And in addition to the policy—remember, both Dodd and Frank were Democrats—such tough talk polls well, too.
Clinton wrote a nearly 600-word open letter to Wells Fargo customers today, ahead of CEO John Stumpf's appearance before the Senate Banking Committee, saying she was "deeply disturbed" by the bank's practices and that Stumpf "owes all of you a clear explanation as to how this happened under his watch"

Clinton: "Even after Americans spent years working hard to recover from the Great Recession, the culture of misconduct and recklessness that preceded that crisis too often persists"

The letter says that Donald Trump, Republicans, Wall Street lobbyists are "desperate" to dismantle the Consumer Financial Protection Bureau, though Wells Fargo case shows need to "protect" it

Says we need "real consequences" when Wall Street firms break the law, and to ensure no financial institution  is "too big to manage"; says she would appoint regulators ''who will stand with taxpayers and consumers, not with big banks and their friends in Congress"

Clinton's comments tap into a vein of sentiment, seen especially during Bernie Sanders' presidential campaign, of unease about financial institutions

In a Morning Consult poll released in April, nearly half of voters said there should be more government regulation of Wall Street banks and companies, another 20% say the same amount; just 13% say there should be less
Poll also showed that 60% of voters think Wall Street banks and companies have too much influence in the country, while 14% say they have about the right amount and 6% too little
And—key for the presidential campaign—views of independent voters both candidates are targeting "closely mirror" those of the public as a whole

TRUMP ON TERRORISM
Donald Trump sticks to anti-terror theme in remarks in North Carolina
Trump describes incidents in New York, New Jersey, Minnesota over weekend as Islamic terrorist attacks; says attacks made possible because of "extremely open immigration system" that doesn't adequately screen people coming into the U.S.

"Immigration security is national security"
Says Clinton wants to bring in more than 600k refugees in her first term "with no effective way to screen or vet them"

Says Clinton's policies in Iraq, Syria, Libya, aided rise of Islamic State

"Her attacks on me are all meant to deflect from her record of unleashing this monstrous evil upon us"
"The rise of ISIS is Hillary Clinton's foreign policy legacy"

TRUMP CHARITY
New York's attorney general is investigating allegations raised in a Washington Post report today that Donald Trump spent $258k from his charitable foundation to settle lawsuits involving his for-profit businesses, ABC News says.

Washington Post reported that the cases "were among four newly documented expenditures in which Trump may have violated laws against 'self-dealing'—which prohibit nonprofit leaders from using charity money to benefit themselves or their businesses"
Post says Trump campaign declined comment

Clinton campaign responds in statement: "Clearly the Trump Foundation is as much a charitable organization as Trump University is an institute of higher education"

FUNDRAISING
Today's the deadline for monthly campaign finance reports. They're due by midnight
Sheldon Adelson and his wife, Miriam, have committed ~$45m so far to Donald Trump's presidential campaign and down-ballot Republican congressional races, CNN reports, citing an unidentified person familiar with Adelson's thinking.

Adelson donated $1.5m to host Republican National Committee on August 24, a month after the convention and after the host cmte reached out because it came up short of its fundraising goal: Washington Post

Republican billionaire Mike Fernandez to donate more than $2m to aid Clinton campaign, targeted to Latino outreach and registration in Florida: Miami Herald 

POLLS
FiveThirtyEight's Nate Silver: "Last week, we got a LOT of polls with bad numbers for Clinton. This week, numbers are better numbers for her, but not very many polls"
NBC News/SurveyMonkey poll shows Clinton leading Trump by 5 ppts
LA Times/USC Tracking has Trump up 5 ppts
FL: Clinton up 46%-41% in Fla., Monmouth poll finds; Gary Johnson at 6%, Jill Stein 1%
NC: Trump 44%-43% Clinton in Elon poll; Johnson at 6%; Stein a non-factor
Bloomberg Politics Poll Decoder looks at which candidate is winning over key demographic groups
NYT also highlights how well-meaning pollsters' underlying assumptions can skew top-line results

Four groups of pollsters given same data from NYT Upshot/Siena poll, asked to estimate result
Results ranged from Clinton +4 to Trump +1

ETC
Senator Lindsey Graham, a former Republican presidential candidate, says Donald Trump's admission last week that President Obama was born in the U.S. was "a start," and suggested the Republican presidential nominee apologize
Republican Governor Nikki Haley really likes Hillary Clinton's campaign song

Haley, on Twitter: "Started my day with ''Fight Song'' by Rachel Platten. Wanted to share so that everyone gets an additional boost!"

Donald Trump Jr. invokes the candy Skittles in refugee analogy, and Skittles parent company Wrigley Americas swiftly distanced itself from his remark

Trump Jr. posts image of bowl of Skittles on Twitter w/ text: ""If I had a bowl of skittles and I told you just three would kill you, would you take a handful?"; he also wrote: ''This image says it all. Let's end the politically correct agenda that doesn't put America first"
"Skittles are candy. Refugees are people. We don't feel it's an appropriate analogy," Vice President of Corporate Affairs Denise Young says in statement, AP reports

"We will respectfully refrain from further commentary as anything we say could be misinterpreted as marketing"

CONGRESSIONAL ELECTIONS
SENATE RACES (Republicans hold 54-46 majority)
BIG PICTURE: Republican prospects of keeping their majority are "improving considerably, thanks to Hillary Clinton's sliding popularity, strong campaigns by Republican candidates, and a GOP fundraising surge," Bloomberg's Steven T. Dennis reports

"It's certainly looking a lot better" for Republicans than a few weeks ago, according to Washington Post's The Fix, which says Democrats favored to win GOP-held seats in Ill., Wis.; sees toss-ups in Ind., Nev., N.H., Pa.
Democrats need a net gain of four or five seats for majority, depending on outcome of presidential election

FUNDRAISING: Billionaire Sheldon Adelson has donated $20m to Senate Leadership Fund, a super-PAC working to save the Republicans' Senate majority, CNN reported
LA: ESAFund, a conservative super-PAC led by Joe Ricketts, released TV ad attacking Republican Reps. Charles Boustany and John Fleming as "D.C. insiders," accusing them of becoming wealthier in Congress and voting to "raise Obama's debt limit"

Ad cites vote on 2011 Budget Control Act, which lifted debt ceiling to avoid default and put limits on projected discretionary spending; Boustany sided with most Republicans including Paul Ryan, though Fleming actually voted no
Ad cites 2013 vote to suspend nation's borrowing limit for three months; Boustany and Fleming were among 199 Republicans who voted yes
ESAFund backs Republican state Treasurer John Kennedy for seat of retiring Republican Sen. David Vitter; all candidates of all parties run in Nov. 8 election, with Dec. 10 runoff likely

NC: Republicans are "privately fretting" that Sen. Richard Burr "isn't campaigning aggressively enough" and "potentially risking a GOP seat that the party should otherwise have in the bag," Politico reported

"I'm probably in better shape than we dreamed," Burr said of race against ex-state Rep. Deborah Ross
Burr, who leads Senate Intelligence Cmte, appeared on Fox News yday to discuss homeland security and N.Y., N.J., bombing suspect Ahmad Khan Rahami; his campaign uploaded to his YouTube page an excerpt than ran on NBC's Greensboro affiliate

NH: Granite State Solutions, a super-PAC aiding Republican Sen. Kelly Ayotte, raised $6.4m in Aug., including $4.8m from Senate Leadership Fund and $1.5m from Adelson, according to FEC filing

Ayotte opposed by Democratic Gov. Maggie Hassan
HOUSE RACES (Republicans hold 246-186 majority)
FUNDRAISING: Adelson also is giving $20m to Congressional Leadership Fund, a super-PAC defending the Republicans' House majority, CNN reported
CO-03: House Majority PAC, a super-PAC aiding Democrats, in TV ad said Democrat Gail Schwartz provides "independent leadership" and Republican Rep. Scott Tipton is tied to "special interests buying influence in Washington"

Ad cites April Denver Post story about criticism of a draft Tipton bill "written largely by an energy company that is also Tipton's largest campaign contributor"
"This was not an end, but it was a starting point," Tipton told the newspaper
Schwartz, a former state senator, is seeking to unseat Tipton after three terms in district that includes vast swaths of western and southern Colo.

FL-13: Republican Rep. David Jolly said at debate yday that Democratic ex-Gov. Charlie Crist "could not be trusted," while Crist was "portraying himself as a moderate and painting Jolly as a conservative Republican in a district that now leans Democratic," Tampa Bay Times reported

Court-ordered redistricting added Democratic precincts in south Pinellas County to Jolly's district

IL-10: Democratic ex-Rep. Brad Schneider and Democratic Congressional Campaign Cmte released TV ad linking Schneider to Obama, Vice President Joe Biden, Mass. Sen. Elizabeth Warren as narrator says the Democrats are working to protect Social Security and abortion rights, curb gun violence, and "reject the politics of hate and fear"

Schneider seeking to unseat GOP Rep. Bob Dold from North Shore suburban district that gave 58% of its votes to Obama in 2012 election

MN-08: Democratic Rep. Rick Nolan and Republican challenger Stewart Mills "diverged on nearly everything as they debated for the first and maybe only time" yday, Duluth News Tribune reported

Mills in rematch with Nolan, who won their 2014 race by 1.4 ppts in Iron Range district

NY-19: National Republican Congressional Cmte released TV ad referring to law professor Zephyr Teachout as "Professor Teachout" and criticizing her support for Obama administration's Iran nuclear deal

NRCC backs ex-state Rep. John Faso in central Hudson Valley district of GOP Rep. Chris Gibson, who's retiring

NY-24: Republican Rep. John Katko and Democratic challenger Colleen Deacon disagree on the Affordable Care Act, minimum wage hikes, and how immigration laws should be amended, according to Syracuse.com analysis of seven policy differences between the candidates
TX-23: Republican Rep. Will Hurd's campaign released TV ad linking Democratic ex-Rep. Pete Gallego to Clinton and accusing him of ignoring military veterans ensnared by the troubled federal Veterans Affairs bureaucracy

Ad refers to "Re-Pete Gallego," who is seeking to reclaim seat he held for one term before losing to Hurd in 2014
San Antonio-to-El Paso district voted 51%-48% for Mitt Romney in 2012, making it only Texas district where presidential margin of victory was less than 15 ppts
Before it's here, it's on the Bloomberg Terminal.
LEARN MORE