U.S. Concrete CEO Prowls for Deals as 18-Fold Stock Gain Stalls
by
Shares headed for first drop since 2011 as weather hits profit

Plans to expand to new market may provide boost, investor says
U.S. Concrete Inc. Chief Executive Officer Bill Sandbrook, faced with the first stock-market decline since 2011, is looking to grow. That probably means seeking deals in markets dominated by the kind of tough unions most corporate bosses try to avoid. 
"The more unionized it is, the better for me," said the former U.S. Army officer, whose father managed cement plants and talked at the dinner table about handling labor talks. "I've been around unions my whole career. I'm used to the game."
Buying small concrete producers in cities such as New York and San Francisco has helped fuel profits because the challenges of dealing with restrictive labor rules and supplying high-rise construction projects make it difficult for potential rivals to enter the markets. U.S. Concrete surged 18-fold in the four years through 2015, easily outpacing peers such as Martin Marietta Materials Inc. and Eagle Materials Inc.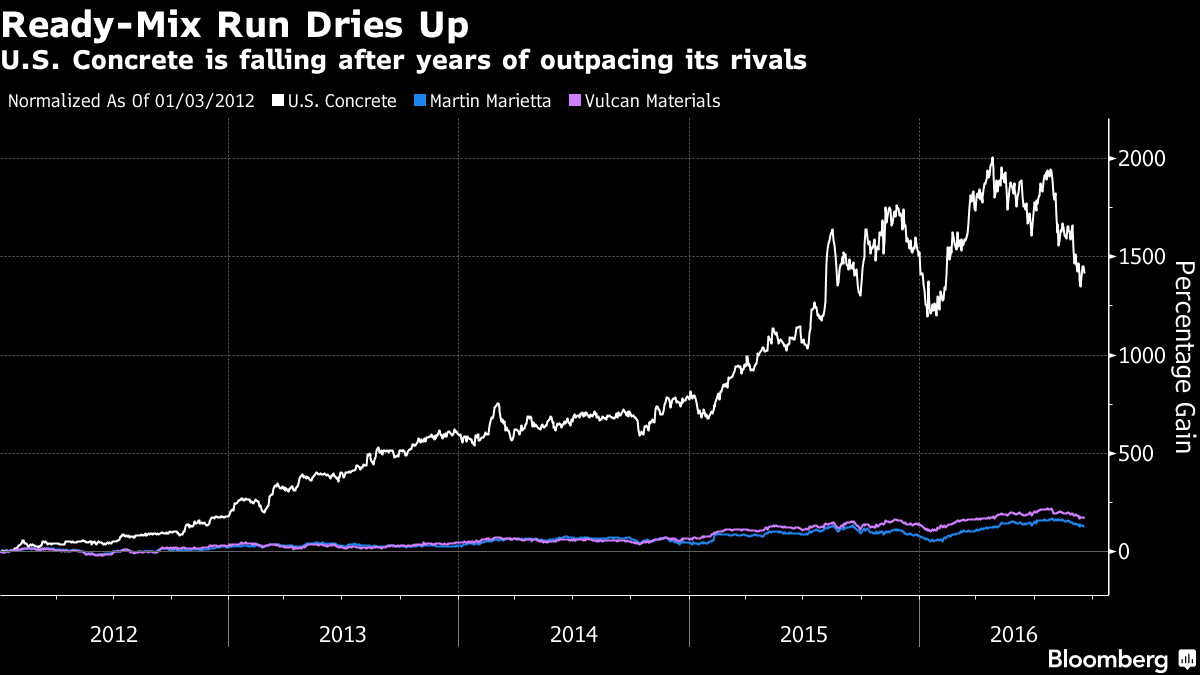 The challenge now is that the rally has petered out. Second-quarter earnings fell short of analysts' expectations as bad weather kept concrete trucks out of job sites while drivers still had to be paid. While Sandbrook won't say which markets he's scouting, he says large cities such as Los Angeles, Chicago and Philadelphia offer the conditions he favors, such as tough union rules and the technical challenges of supplying high-rise construction projects.
U.S. Concrete has about $170 million of "dry powder" for acquisitions, said Chief Financial Officer Jody Tusa. The balance sheet was given a boost with the June sale of $400 million of notes with a coupon of 6.375 percent.
Stock 'Catalyst'
The entry into a new market "could be a catalyst for the stock," said Eric Marshall, a portfolio manager with Hodges Capital, which has been adding to its holdings of U.S. Concrete during the stock's downturn, which began in late July.
Labor rules that make it difficult to discipline or fire workers serve as a useful barrier to would-be rivals looking to encroach on a ready-mix concrete industry where a plant costs less than $3 million to build, Sandbrook said in an interview.
The Euless, Texas-based company has stood out by boosting profits in the humble business of mixing concrete, an activity that investors have long shunned in favor of the building material's ingredients: cement, sand and crushed stone. It also has significant operations in Dallas, where unions are weak and the company competes on the basis of its comprehensive network of plants around the metropolitan area.
Adjusted earnings before interest, taxes, depreciation and amortization jumped to $132 million last year from $4.8 million four years earlier. Return on invested capital of more than 14 percent has easily outpaced larger building-materials producers such as Vulcan Materials Co., LafargeHolcim Ltd. and Cemex SAB. 
Ready-Mix Profits
"He is one of the first operators to really make good money on the ready-mix side of the business," said Stanley Elliott, an analyst at Stifel Nicolaus & Co. "The markets they operate in have a higher-value application, like more high-rise construction."
More recently, the second-quarter earnings report dragged on the stock, as did falling cement volumes in Texas and news articles about a weakening New York condo market, said Rohit Seth, an analyst at SunTrust Robinson Humphrey Inc.
Still, U.S. Concrete is one of the lowest-valued stocks among building-materials companies and has the highest return on invested capital, which should underpin a rebound in the shares, he said.
"Certainly two bad quarters would be troubling without positive forward commentary," Seth said. "But if they do make this next quarter, it will certainly help the stock offset some of the negative sentiment that's out there."
Before it's here, it's on the Bloomberg Terminal.
LEARN MORE