markets
Trump Wins Endorsement From Another East European Leader
By
Czech president backs Trump in contrast with his own premier

Zeman's endorsement echoes that of Hungarian Premier Orban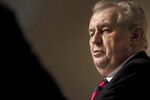 Czech President Milos Zeman endorsed Donald Trump as the better choice in the U.S. election in a sharp contrast with the majority of European leaders and the prime minister of his own country.
"I will not interfere with U.S. internal affairs," Zeman said in a video interview on iDnes news portal on Tuesday. "I am just saying that if I were an American citizen, I would vote for Donald Trump."
The 71-year-old president, the country's first to have been elected in a popular vote, said the real-estate mogul is a better choice than Hillary Clinton, who would just continue the policies of Barrack Obama's administration that turned the Middle East into a place full of "festering wounds." Czech Prime Minister Bohuslav Sobotka endorsed Clinton in August after Trump questioned the U.S.'s obligations to help defend its NATO allies.
Echoing Hungarian Prime Minister Viktor Orban, who threw his support behind Trump in July, Zeman is riding an anti-establishment wave that's sweeping across Europe. Following the U.K.'s June vote to exit the EU, the Czech president said he'd support holding a referendum on whether his country of 10.6 million should remain in the bloc.
Zeman, who served as the Czech prime minister for four years under the late President Vaclav Havel, has clashed with Premier Sobotka on a number of other issues. He's a vocal opponent of EU sanctions against Russia and supporter of Vladimir Putin's annexation of Crimea. He has also adopted a hard-line stance against refugees, whom he has repeatedly said are responsible for terrorism.
That is also a sentiment he shares with Orban, whose government has built a fence on Hungary's borders to keep out migrants crossing into Europe from the Middle East. The Hungarian premier openly admired Trump's plans to stop immigration by building a wall on the U.S.'s southern border with Mexico.
Because the main executive power lies with the government, Zeman's role is largely ceremonial. Still, he is the formal commander in chief and has the right to appoint judges and name the governor of the central bank.
(
Updates with similarities with Orban from fourth paragraph.
)
Before it's here, it's on the Bloomberg Terminal.
LEARN MORE