Tony Blair Closes Business Ventures to Focus on Charity Work
by
Ex-premier to keep some personal consultancies for income

Blair said in 2013 interview he wasn't motivated by wealth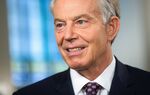 Former U.K. Prime Minister Tony Blair said he's closing down some of his business ventures to focus on nonprofit work.
Blair will shut Tony Blair Associates, transferring its "substantial reserves" to his not-for-profit work, his office said on Tuesday in a statement on its website. He'll also wind up his Firerush and Windrush ventures, two London-based limited partnerships that weren't required to publish accounts under English law.
"I want to expand our activities and bring everything under one roof," Blair said in an e-mail to staff published on the website. "I also want now to concentrate the vast bulk of my time on the not-for-profit work which we do. De facto, this has been the case in the past two years but we need to reflect this change in the way we are structured."
Blair has been criticized in the U.K. press for amassing millions of pounds since stepping down as prime minister in 2007 after 10 years in the job. Blair said he'll retain a "small number of personal consultancies for my income," but that 80 percent of his time would be spent on pro-bono not-for-profit work.
Blair's life since leaving office has seen him work for JPMorgan Chase & Co., advise the Abu Dhabi Executive Affairs Authority, help arrange deals for China Investment Corp. and advise President Nursultan Nazarbayev of Kazakhstan.
Lucratively rewarded for public speaking engagements, he has always maintained that his business activities helped to fund his charity work.
"It genuinely is about making a difference in the world and not about making money," Blair said in a 2013 interview. "The motivation is not the accumulation of personal wealth. If I'd wanted to do that, I could do it a lot simpler with a lot less time."
He set himself up as a dealmaker, globe-trotting adviser and philanthropist, with a network of companies and charities that operated in more than 20 countries. It was in part to find a purpose to his life after politics, he said.
"If you become prime minister and step down in your early 50s," Blair said in 2013, "what are you going to do? Play golf? It fills me with total dread."
Before it's here, it's on the Bloomberg Terminal.
LEARN MORE