Takata Shares Fall; Bidders Said to Mull Bankruptcy Option
Craig Trudell and Masatsugu Horie
Bankruptcy may result in low repayment to bondholders: analyst

Suitors for air-bag maker said to include Carlyle, KKR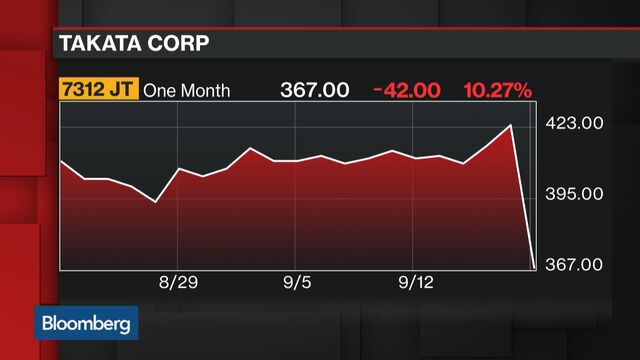 Takata Corp. shares fell 12 percent in Tokyo trading as bidders for the air-bag maker were said to consider the possibility of some form of bankruptcy proceedings for the Japanese company behind the auto industry's biggest ever safety recall.
The shares posted their biggest decline since March 30 to 374 yen on Tuesday. The drop was the biggest on the benchmark Topix index and reduced the company's market value to 31.1 billion yen ($305 million).
Bidders for Tokyo-based Takata have been asked to submit their proposals by early this week, and suitors include Carlyle Group LP, which is working with Chinese-owned air-bag manufacturer Key Safety Systems Inc.; Daicel Corp., a Japanese manufacturer of air-bag inflators that's jointly bidding with Bain Capital; and KKR & Co., according to people familiar with the matter. Some of the bidders are considering the possibility of bankruptcy proceedings for Takata as an option to mitigate liabilities, the people said, asking not to be identified because the deliberations are confidential.
Takata spokesman Toyohiro Hishikawa declined to comment. The company aims to shortlist two to three candidates by October, said the people, who asked not to be identified because the information is confidential.
Pursuing bankruptcy could result in very low repayment to debt holders, Nobuhiko Anbiru, a senior credit analyst at Mitsubishi UFJ Morgan Stanley, wrote in a report Tuesday. While bondholders have been repaid about 10 percent in recent bankruptcy cases in Japan, Takata's car-making customers and sponsors may agree to support Takata and the notes could be redeemed at maturity, he wrote.
A person with knowledge of the restructuring process said in May that Takata would seek to avoid bankruptcy and instead look for buyers that could take a controlling stake and carry the company through its crisis.
The sale will be closely scrutinized by the world's largest automakers, which will spend the next several years recalling air-bag inflators that can rupture and shoot deadly shards at vehicle occupants. Takata set up a committee in February that's been negotiating with its car-making customers, led by Honda Motor Co., on the costs related to replacing the defective parts linked to as many as 15 deaths worldwide.
Almost 70 million Takata airbag inflators are scheduled for replacement between now and 2019, the largest and most complex auto-safety recall in U.S. history. The company faces billions in potential recall costs should automakers not agree to forgive the debts.
Before it's here, it's on the Bloomberg Terminal.
LEARN MORE