Takata Said to Get Five Bids With KKR, Daicel Among Suitors
David Welch and Masatsugu Horie
Autoliv, Flex-N-Gate, Key Safety and Bain also submit bids

Takata said to discuss bids with carmakers later this month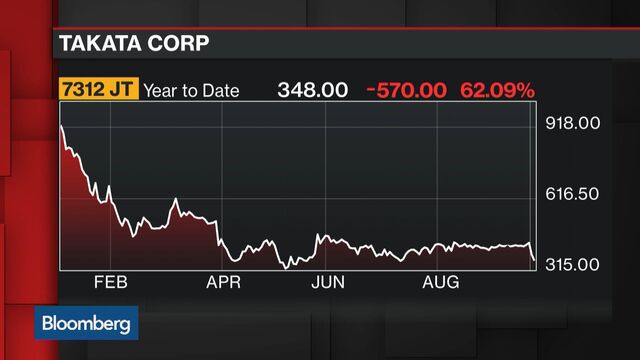 Takata Corp. has received bids from potential suitors including buyout firm KKR & Co. and Japanese peer Daicel Corp. as it faces mounting liabilities related to its record recalls, according to people familiar with the matter.
The Japanese safety supplier has taken bids from KKR, auto-parts supplier Flex-N-Gate Corp. and air-bag makers Autoliv Inc. and Key Safety Systems Inc., said one of the people, who asked not to be identified because the deliberations are confidential. Air-bag inflator maker Daicel teamed with Bain Capital for a fifth bid, the person said. Takata spokesman Toyohiro Hishikawa declined to comment.
Takata shares have posted their biggest two-day drop in more than four months as bidders are said to consider the possibility of some form of bankruptcy proceedings as an option to mitigate liabilities. Almost 70 million Takata air-bag inflators are scheduled for replacement in the U.S. alone through 2019 and as many as 15 deaths worldwide have been linked to the components, which can rupture and shoot deadly shards at vehicle occupants.

The shares dropped 1.6 percent to 368 yen in Tokyo on Wednesday, extending their two-day losses to 13 percent, the worst since May 6. A person with knowledge of Takata's restructuring process said in May the company would seek to avoid bankruptcy and instead look for buyers that could take a controlling stake and carry the company through its crisis.
Carmaker Meetings
Bidders were asked to submit proposals covering multiple potential scenarios for how Takata's recall costs and legal liabilities will be handled, according to one of the people. Takata has scheduled meetings to discuss the bids with its carmaker customers from Sept. 27 through 29, one of the people said. Automakers' role in covering a share of the air bag-related costs will be discussed as part of the process, the people said.
Representatives for KKR, Daicel, Bain Capital and Autoliv declined to comment. Representatives for Flex-N-Gate, Key Safety Systems and its owner, Ningbo Joyson Electronic Corp., didn't immediately respond to messages.
The Nikkei newspaper reported the bids earlier Wednesday.