Deutsche Bank's Riskiest Bonds Fall to Lowest Since February
By
Notes decline 11 cents on the euro in three trading days

DOJ is seeking an initial $14 billion to settle investigation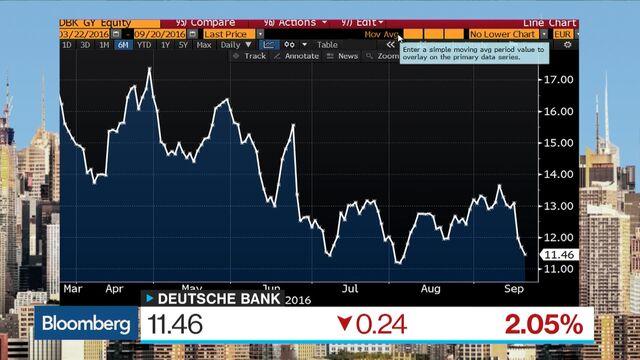 Deutsche Bank AG's riskiest bonds dropped to the lowest since a marketwide rout in February as a potential $14 billion bill to settle a U.S. probe into mortgage-backed securities reignited capital concerns.
The lender's 1.75 billion euros ($2 billion) of 6 percent additional Tier 1 bonds, the first notes to take losses in a crisis, fell four cents on the euro to 72 cents, according to data compiled by Bloomberg. That extended the decline since the U.S. Department of Justice's initial settlement figure was announced last week to 11 cents.
Deutsche Bank's bonds and shares have tumbled because of concerns that settling the Justice Department probe may lead to a capital shortfall, even if the Frankfurt-based lender is able to negotiate a smaller bill. A reported plan to securitize billions of dollars of corporate loans may do little to help.
While the securitization "has the potential to have a positive impact on Deutsche Bank's capital position, this is somewhat overshadowed by the sheer size of the suggestion of a $14 billion settlement," Rabobank analysts led by Claire McNicol said in a client note.
The cost of insuring the bank's debt against default rose to the highest since July. Credit-default swaps on its senior debt rose 14 basis points to 227 basis points. Contracts tied to junior debt increased 29 basis points to 459 basis points.
Capital Concerns
A capital gap could force Deutsche Bank to sell new stock or to skip coupon payments on additional Tier 1 notes. The bank is among the worst-capitalized lenders in Europe.
A spokesperson for the bank declined to immediately comment on capital levels.
The renewed decline in Deutsche Bank's additional Tier 1 notes contrasts with a recovery for UniCredit SpA. The Italian lender's bonds, which were also at the center of the selloff earlier this year, have risen in the past couple of months, aided by the appointment of a new chief executive officer and possible plans for a share sale to boost capital.

Deutsche Bank is working on a transaction that will structure corporate loans in a synthetic collateralized loan obligation, according to a person familiar with the plan, who asked for anonymity because the deal is pending. The program will be smaller than a similar transaction involving $5.5 billion of loans last year, the person said.
An official at Deutsche Bank declined to comment on the potential securitization.
Before it's here, it's on the Bloomberg Terminal.
LEARN MORE