quicktake
A 2013 Traffic Jam That Still Dogs Chris Christie: QuickTake Q&A
By and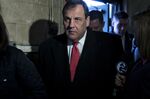 The abuse-of-power scandal known as Bridgegate started with orange traffic cones. During the first week of school in September 2013, cones were rearranged on the New Jersey side of the George Washington Bridge, reducing to one from three the lanes reserved for vehicles from the closest town, Fort Lee. The bridge is the world's busiest, connecting New Jersey with New York City's Manhattan Island. The resulting gridlock still dogs New Jersey Governor Chris Christie, a top adviser to Republican presidential nominee Donald Trump. Two former Christie allies were convicted in federal court of joining a partisan plot to punish a local mayor for not backing Christie's re-election.
1. What did we learn about Christie's role?
On Day One of the trial, a federal prosecutor declared for the first time that Christie was told about the bridge bottleneck while it was going on, something Christie has always denied. But no direct evidence of his participation was presented.
2. What did witnesses say?
The prosecution's chief witness, David Wildstein, who organized the shutdown, said he joked about the traffic with Christie while the bottleneck was going on. One of the defendants, Bridget Anne Kelly, said that she talked with Christie about the lane closings a month before they happened and while they were in place. But she also testified that she thought they really were part of a traffic study, a notion Wildstein said he'd devised as a cover story. Three other top Christie aides testified that they had discussed the lane closings with the governor weeks before Christie says he learned of the matter.
3. Who was convicted?
Kelly, who was Christie's deputy chief of staff, and Bill Baroni, Christie's top executive appointee at the Port Authority. They were found guilty on all counts, including conspiracy, fraud and civil-rights charges, for plotting to misuse Port Authority property. Kelly wrote the infamous e-mail, "Time for some traffic problems in Fort Lee." They will be sentenced on Feb. 21.
4. Who (else) was involved?
Wildstein, Baroni's right-hand man at the agency that owns and operates the bridge, the Port Authority of New York and New Jersey, pleaded guilty to conspiracy and will be sentenced later. He said both Kelly and Baroni helped him put the plot to punish Fort Lee Mayor Mark Sokolich into motion. David Samson, a Christie appointee who was chairman of the Port Authority at the time, pleaded guilty to a federal corruption charge in a separate case that stemmed from the bridge investigation. Wildstein testified that Bill Stepien, another former top Christie aide also now working for Trump, knew about the lane closings in advance. Stepien wasn't charged and has denied having anything to do with a plot.
5. What's the fallout?
Bridgegate loomed over Christie's unsuccessful campaign for the Republican presidential nomination, which ended in February. His popularity in New Jersey plunged to historic lows, falling to 21 percent in one poll. The Bridgegate trial put on display the grubbiness of New Jersey politics, where World Trade Center wreckage was passed out as political favors. It cast a particularly harsh light on Christie, who was portrayed as a vicious, obscenity-spewing bully. With his term ending in January 2018, it's possible that Christie could find political rebirth in a Trump administration. Some New Jersey Democrats have begun discussing impeachment. Others think it wouldn't be worth the trouble.
The Reference Shelf
A Bloomberg article on what else is wrong with the agency that runs the bridge.
A Bloomberg article on Christie's withdrawal from the presidential campaign.
Before it's here, it's on the Bloomberg Terminal.
LEARN MORE