Phillips's Emerging Auction Sells 74% of Lots in Anxious Market
By
Scott-Douglas fetches $30,000 -- one third of purchase price

'Young art is like playing roulette,' says collector Kantor
Phillips's contemporary art auction sold 74 percent of the lots offered, a sign that the market for new works continues to contract.
The "New Now" sale tallied $2.85 million on Tuesday, within Phillips's estimated sales range and down from $4.5 million last year. The top lot was Japanese artist Yayoi Kusama's 2006 painting "Infinity Nets (TWWP)," which fetched $225,000, more than double its high estimate. But others didn't fare so well. A work by Hugh Scott-Douglas sold for $30,000; the owner paid $100,000 in 2014.
The sale demonstrates the reversal of fortune for emerging artists. Prices for works by these artists soared in 2014, sometimes reaching hundreds of thousands of dollars, and trading like bull-market tech stocks. Since then sales for some artists are down 90 percent as a glut of work and high prices keep buyers away. Phillips lured bidders to this year's auction with bargain estimates, often below primary market prices.
"I thought it was going to be much worse," said Ralph DeLuca, a collector who attended the sale. "If people trade emerging art like stocks, they shouldn't be shocked when prices go down."
Scott-Douglas Results
Several bidders pursued the eight-foot-tall canvas resembling a sheet of blueprint grid paper by 28-year-old Scott-Douglas.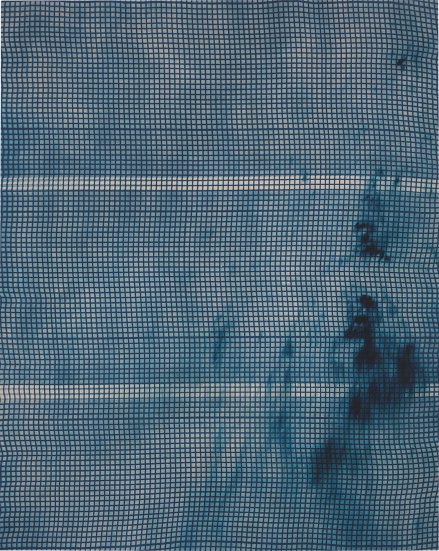 The $30,000 sale price exceeded the estimated target of $18,000 to $22,000. But the seller, Los Angeles-based collector and dealer Niels Kantor, took a hit on his investment. He consigned it to Phillips after he was unable to sell it privately for a year. Ultimately, Kantor netted $24,000. (Phillips's price includes a commission paid by the buyer. It was $6,000 in this case.)
"What is happening with Hugh's auction prices now is inconsequential for anyone except the speculators who, we are so glad, are selling their works by him," said Loring Randolph, partner and director of Casey Kaplan gallery in New York, which is mounting the artist's solo exhibition next month. "This gives us a clean slate from which to work." 
There were bright spots, including auction records for eight artists. A colorful abstract canvas by Matt Connors fetched $112,500, surging past the high estimate of $40,000.
Josh Kline's shelves stocked with 24 plastic water bottles sold for $37,500, doubling the high estimate. Artist Lucy Dodd's curtain-like structure made of strings of rope hanging off a horizontal wooden bar fetched $12,500, within the estimated range. Both works were sold by Los Angeles entrepreneur Stefan Simchowitz. 

In other results:
A painting by another young artist, Lucien Smith, fetched $16,250, within the presale estimate. In 2014, a bigger work from the series he made by spraying more than 200 canvases with paint from a fire extinguisher, sold for $372,120.


Israel Lund's grainy abstract 2013 painting fetched $10,000. At one point, similar paintings by the artist were trading at about $180,000, said DeLuca, who owns the artist's work.


Christian Rosa's doodles on canvas, titled "This is the Next One," from 2013 fetched $22,500. Another work made the same year sold for $209,000 in 2014.


Kantor said for him the moral is: buy established artists rather than take big risks on emerging art.
"Young art is like playing roulette," he said.
Before it's here, it's on the Bloomberg Terminal.
LEARN MORE