Peru Calls for Food Aid, Pressure to Help 'Starving' Venezuela
By
Peruvian leader says neighbors should lend a hand and assist

Kuczynski to Maduro: 'You can't put all your enemies in jail'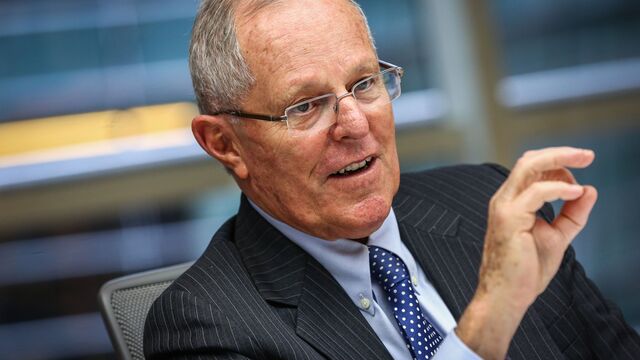 Peruvian President Pedro Pablo Kuczynski called on South American peers to both help and pressure his Venezuelan counterpart, Nicolas Maduro, who faces a simmering political standoff with the opposition and widespread shortages of food and medicine.
"The prescription is simple but hard to implement," Kuczynski said in an interview with Bloomberg Television. "Help them out. There are no medicines in Venezuela. People are starving. We can do a club of countries -- Chile, Argentina, Colombia, Peru. We have pharmaceutical industries. We have food. We can help out. Now, Maduro doesn't want that, because he says everything is perfect in Venezuela. But that's not true. Everybody knows that."
The comments from Kuczynski, a 77-year-old Wall Street veteran and former finance minister, followed harsh rebukes in recent weeks from Argentina, Brazil and Chile. Maduro, who has jailed political opponents and opposition activists as they seek to hold a recall referendum on his rule, has come under increasing international pressure over the past year. He also faced an underwhelming turnout last week at a summit of the Non-Aligned Movement hosted on Margarita Island that only drew a small group of leaders, including Zimbabwe's Robert Mugabe and Iran's Hassan Rouhani.
Kuczynski is on his first official visit to the U.S., where he will speak before the United Nations General Assembly and meet with fellow Latin American leaders. Triple-digit inflation and a third year of recession have sunk Maduro's approval rating to near 20 percent, fueling the opposition's drive to trigger a referendum despite the president's refusal.
To read a Bloomberg QuickTake on Venezuela's political crisis, click here.
Maduro, 53, has led Venezuela since 2013, when he succeeded the late Hugo Chavez.
"There has to be pressure, in a nice way without trying to interfere too much. There has to be some kind of moral suasion. You can't put all your enemies in jail. You have a parliament that was elected with certain powers. You can't take those powers away."
Venezuela's National Assembly has seen its powers challenged and initiatives stymied since the opposition took control after elections last year. Earlier this month, the pro-government Supreme Court issued a ruling that nullified any acts it passed since it reinstated three disputed lawmakers on July 28, further deepening an institutional standoff in the country.
— With assistance by Ben Bartenstein, and John Quigley
Before it's here, it's on the Bloomberg Terminal.
LEARN MORE