Patel Has the Best Bond Start This Century for Any RBI Chief
By
India's 10-year yield has plunged 56 basis points this quarter

Patel's appointment 'a critical pillar,' Memani says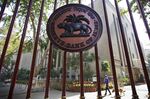 Urjit Patel is enjoying the best bond-market start for a new Reserve Bank of India governor this century.
Benchmark 10-year yields have plunged 56 basis points since June 30, the most in any quarter since 1999 during which a central bank chief was appointed, data compiled by Bloomberg show. Global funds are returning to rupee debt after a two-quarter hiatus as slowing inflation and an improving current-account burnish India's appeal amid reduced odds of a U.S. Federal Reserve interest-rate increase Wednesday.
About half of the 113-billion rupee ($1.7 billion) inflow that Indian bonds have garnered this quarter followed Patel's promotion. The 52-year old former RBI deputy governor had established his inflation-fighting credentials by spearheading a report that led the government to adopt the nation's first formal consumer-price target last month.
"Urjit Patel's appointment is a critical pillar for this positive environment for inbound portfolio flows," said Krishna Memani, New York-based chief investment officer at Oppenheimer Funds Inc., which oversees $223 billion. "For the current positive trend to persist, Patel has to have the political support to have the operating leeway to continue with the credible monetary policy mix. Any slippage on this front will backfire over the long run."

Times are far less challenging for Patel than they were for his predecessor Raghuram Rajan when he took charge at the central bank this quarter in 2013. The rupee had tumbled to a record low and foreigners were dumping local bonds, with weak finances putting the economy on the verge of a rating downgrade. The currency is now poised to snap a five-quarter decline, with strategists raising their year-end forecasts at the fastest pace in 11 months.
The pickup in foreign inflows comes as India looks set to post its first quarterly current-account surplus since 2007, with Patel's appointment seen striking a chord with global funds that worried Rajan's departure would weaken the government's resolve to fight inflation. Consumer-price gains eased to a five-month low in August.
All this augurs well for local sovereign bonds, which lag their Indonesian peers this year after delivering the highest returns among major emerging Asian economies in 2015 and 2014, indexes compiled by Bloomberg show. While both the countries have benefited from the gush of money chasing higher-yielding assets amid near-zero rates in the developed world, investors have earned 18.2 percent on rupiah notes in 2016, compared with 11.1 percent on rupee debt.
Read: Indonesia Beats India as Asia's Top-Yielding Bond Market: Chart

"Foreign investors were concerned about a weakening in the inflation-targeting framework but with the announcement of Dr. Urjit Patel, those concerns have diminished," said Rajeev De Mello, who oversees about $10 billion as Singapore-based head of Asian fixed income at Schroder Investment Management Ltd. "Inflows into emerging markets were very strong post Brexit."
Daily government bond turnover on the RBI's dealing platform reached a record earlier this quarter as the central bank boosted liquidity via open-market debt purchases. Yields also fell after the issuance of a new benchmark 10-year security at the lowest cutoff since 2009.
The yield on the notes due September 2026 was steady at 6.89 percent in Mumbai on Wednesday. The Bank of Japan shifted the focus of its monetary stimulus away from a rigid target for expanding the supply of money, to controlling the shape of yields across different maturities. That lifted the nation's 10-year bond yield to zero for the first time since March.
India's cabinet last week approved creation of a panel to determine a new national sales tax, which Finance Minister Arun Jaitley has said will add as much as 2 percentage points to growth that is already the fastest among the world's major countries.
"Indian government bond yields are attractive versus peers rated BBB- because of the country's strong economic growth and small demand for external financing," Desmond Soon, co-head of investment management for Asia ex-Japan at Western Asset Management Co., told a briefing in Hong Kong this month.
— With assistance by Lianting Tu
Before it's here, it's on the Bloomberg Terminal.
LEARN MORE